A Gaggenau Oven for Accessibility
Rosemarie Rossetti chose a Gaggenau oven when she was designing the kitchen for the Universal Design Living Laboratory. Here is why that was a good choice.
Gaggenau ovens are a premier brand from Germany. They are known for their distinctive styling. There products are styled by Jacob Jensen Design. Jacob Jensen was the designer who gave Bang & Olufsen their leading edge look back in the 1960's and into the 80's.

They have received numerous design awards for their products. Their 36" wide oven is on display at the Museum of Modern Art in New York City.

Gaggenau was founded in 1965 but since 1995 has been owned by BSH, a joint venture between Bosch and Siemens, two of Germany's largest industrial companies.

Gaggenau competes at the highest level of the home appliance market. Besides ovens they make cooktops, vents, warming drawers, microwaves and wine cabinets.

Their ovens have a reputation for very precise temperature controls. Cooks can rest assured that the temperature they set is the temperature they get.

They use what they call cool door technology to keep their door temperatures down. They also feature side opening doors, a rarity in thermal ovens.

All of their current models double as convection ovens. They offer ovens in 24", 30" and 36" ovens. In the 30" category they offer a double (stacked) oven.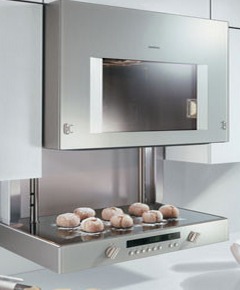 From an accessibility standpoint perhaps their best model is their BL253 automatic lift oven. This oven is made to be built in at the level of the upper cabinets. Rather than having a door the floor of the oven is lowered to the countertop level. Now that is neat! The hot food is right there ready to be moved to the side and onto the counter. Meanwhile most of the heat remains trapped up in the oven.

They also offer combination steam and convection ovens. These use unpressured steam to help more efficiently conduct the heat into the food while also keeping it moist. Their steam ovens can be plumbed so you don't have to refill the water as you do with other brands.

Prices for their ovens range from about $2000 to around $4,000.

Here is my take on Gaggenau ovens. I am not a cook and I can't quite imagine spending that much money, but if you have the money and love to cook.... An oven is a tool, and if you are a craftsman you need good tools.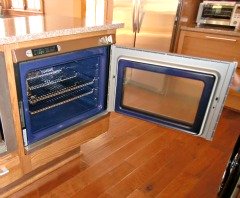 However, the reason I wrote this article is because Gaggenau has the side opening doors. This makes them an excellent choice for those who need a handicap accessible kitchen.
They make the oven that Rosemarie Rossetti and her husband Mark use in their home at the Universal Design Living Laboratory.
In the future perhaps more manufacturers will get with the program and start adding side opening doors as an option. In the meantime I heartily recommend Gaggenau to those who have a concern with working around drop down oven doors.
---
To Top of Page - Gaggenau Oven
---
Like Me! Tweet Me! Comment! Tell your Story!
Please!