House Structure
The Parts of the House, Especially as the Effect Style, Function and Grace
A house is more than its parts, but without the parts there would be no house. House structure, its parts and the way they fit together, make the house livable. How well they fit plays a big part in determining the beauty of the whole.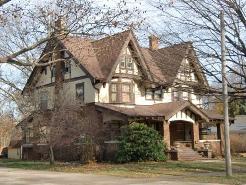 "House Structure", as used in this page, refers to all those major components of a house. It covers roofs and walls, window and doorway, heating systems and plumbing systems. I could not find a better term to cover such a diversity. "Things That Go Into and Make Up a House" was a bit too cumbersome.
It does not cover abstractions, like mass or balance, nor items of strictly decorative nature. Yet all these things are likely to come up in the course of discussing these various parts of a house.
Floors
Doors
Ceilings
Windows
Bathroom
Kitchen
Insulation
Fireplaces, Stoves, Inserts and Furnaces
Plumbing
Out Buildings
Elevators and Lifts
Enter into the above rooms and you will get some facts seasoned with a few opinions. It should be clear which are which. It is my hope that they will be both helpful and enjoyable.
Some people will find this information vitally important - those who are planning a new house for instance. A few style curmudeons, people like me, will get passionate about these topics. Most will find them mildly amusing, a short repast before Googling "Cute bunny videos".
Whatever your category, feel free to enjoy "House Structure", a work-in-progess. 

---
To Top of Page - House Structure
Home - House Design
---
Like Me! Tweet Me! Comment! Tell your Story!
Please!