Heritage Village and Open Air Museums
A heritage village is an outdoor museum recreating life in small town or in days past. In some places they are called open air museums. In Holland they are openluchtmuseum and Freilichtmuseum if you are in Germany. When I was in Ireland last summer they had some called cultural heritage centers.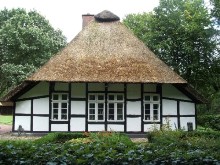 The Volkskundliches Freilichtmuseum near Bremerhaven has farm and village houses circa 1677
While there is a lot to see at a heritage village I'm going to focus on the houses. Depending upon the museum you might see houses from the stone age down to the modern era. The house shown to the right is at the Volkskundliches Freilichtmuseum in Bremerhaven, Germany.
My friend Joe Brown sent me some fine photos from this open air museum, and really spurred me on to create this page. I had been wanting to do this since I started this site, but discovered that I must have rarely kept a camera with me when I went to these places. Joe was obviously better prepared. Bremerhaven is his wife's hometown and you can find this park in the list of heritage villages below.
My favorite such park is Shikokumura, in Japan.  It is twenty-some buildings that they relocated from all over the island of Shikoku. It is well worth the visit, and close to the city of Takamatsu. I must not have had my camera that day because I can not find any pics from my visit.
Probably the most famous such museum is Williamsburg, Virginia. It was the capital of Virginia after Jamestown and served in that capacity up until the time of the Revolution. When the capital was moved to Richmond it fell into decay until resurrected by Rockefeller money. I spent a lovely Christmas there with my new wife, courtesy of my parents. No I haven't gotten a new wife, it is just that we were younger then.
Of course reconstructed castles are a form of heritage village, but I am just as interested in the homes of the humble. Grand palaces are great places to visit, but they are just glorified descendants of the mud hut.
More recently I visited Bunratty Castle in Ireland, which has a nice village attached to it. That gives you a taste of 15th century Ireland, but going back a little further is the cultural center at Craggaunowen, in County Clare. It has some iron age houses in it, including a crannog and a ring fort. The former is a walled village on a man-made island.
Most of the websites listed were pulled off of the internet with no personal knowledge of their facilities. A few I am familiar with. Some of their websites are outstanding. Some are pitiful.
I will be glad to add more, if people send me their information. Better yet, send me photos. Add as much detail as you can remember.
If you have better websites for some of the above parks, I will gladly link to them as well.
---
Germany
---
Ireland
Bunratty
Bunratty
Bunratty castle plus a reenactment village for life in the 15th century.
Craggaunowen
Craggaunowen
A 16th century castle coupled with bronze age settlements including a crannog and a ringfort.
Irish National Heritage Park
Wexford
Has settlements representative of various periods and peoples of Ireland. Separate areas cover the Stone Age, Bronze Age, the Iron Age (Celts), a Viking settlement and an early Norman castle.
Muckross Traditional Farms
Killarney
Muckross Traditional Farms is part of the Muckross House complex located within the Killarney National Park. The traditional farms are a demonstration of the types of farm buildings you might find associated with such a manor.
---
Japan
Takamatsu, Kagawa Prefecture

Mura means village, and Shikoku is the name of the Island.  This is worth the trip to Japan.  They have collected old houses and assorted buildings from all over the Island and moved them to this housing museum.  Amazing! I love this place.
---
Netherlands
Ijzertijd Farm
Dongen
This is a recreation of a small farmstead based on an archeological dig. The site does not translate into English.
Open Air Museum at Ootmarsum
Ootmarsum
Tickets to this small village re-enactment park include admission to the Drosthouse mansion in town.
---
Norway
Norsk Folkemuseum
Oslo
In indoor and an open air museum, with 158 urban and rural buildings recreated from locations throughout Norway. This replicates life in Norway at a point shortly after the reformation.
Maihaugen Open Air Museum

Article on Maihaugen
Maihaugen
Maihaugen has 200 buildings representing both rural and urban. The urban covers the early 20th century, the rural goes back 300 years.
---
United States
Pinellas County Heritage Village
Largo, FL
A small rural town is recreated showing life in Pinellas County, Florida
Plimouth Plantation
Plymouth, MA
The Pilgrims! This is a recreation of the pilgrim's settlement circa 1627. Also included is the Mayflower II, built to resemble the Mayflower, and a Wampanoag Indian settlement.
Colonial Williamsburg


Williamsburg, VA
The grand-daddy of U.S. re-enactment parks, and the gold standard by which all are measured.
Heritage Hills State Historical Park


Green Bay, WI
50 acres of Wisconsin history covering the fur trade, Fort Howard, local trades and the Belgian settlers. The house in the pic is a brick veneer over a log cabin and was built by immigrants from Belgium.
---
The Geesthof at the Volkskundliche Freilichtmuseum at Bremerhaven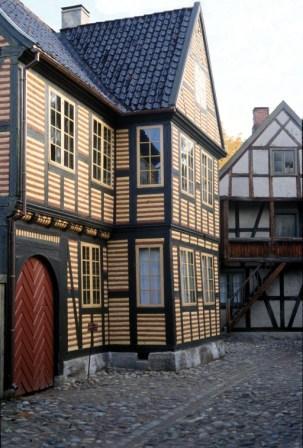 The bookbinder's house at the Norsk Folkemuseum. I love this house. What is going on with the alternating brown and yellow stripes between the timbers? Is that plaster that has been painted?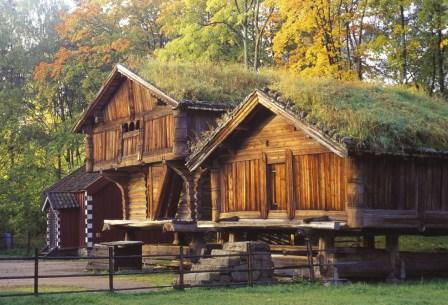 One of several farmhouses at the Norsk Folkemuseum. Note the living roof. Also the house is elevated. Is that to keep it above the snow?
---
---
Like Me! Tweet Me! Comment! Tell your Story!
Please!