Houses in Fiction
Friends. Houses in fiction is a little bit of fun I have inserted into my website. If you enjoy literature as much as you like architecture then a combination should be a special treat.
Below are several descriptions of houses in fiction taken from books of fiction. I would love to include more. Please submit descriptions from your favorite stories using the invitation at the bottom of the page.  
Latest Addition
- Jump to
Hansel and Gretel
- Added 2/3/2012
---
Chapter 1 - An Unexpected Party (Bilbo Baggins' house)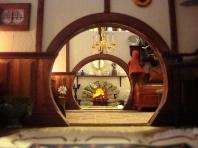 It had a perfectly round door like a porthole, painted green, with a shiny yellow brass knob in the exact middle. The door opened on to a tube-shaped hall like a tunnel: a very comfortable tunnel without smoke, with panelled walls, and floors tiled and carpeted, provided with polished chairs, and lots and lots of pegs for hats and coats -- the hobbit was fond of visitors. The tunnel wound on and on, going fairly but not quite straight into the side of the hill -- The Hill, as all the people for many miles round called it -- and many little round doors opened out of it, first on one side and then on another.
---
Madeline - Ludwig Bemelmans
In an old house in Paris that was covered with vines
lived twelve little girls in two straight lines
In two straight lines they broke their bread,
brushed their teeth and went to bed.


---
Chapter 1 – Lucy Looks Into a Wardrobe (The Professor's house)
It was the sort of house that you never seem to come to the end of, and it was full of unexpected places. The first few doors they tried led only into spare bedrooms, as everyone had expected that they would; but soon they came to a very long room full of pictures and there they found a suit of armor; and after that was a room all hung with green, with a harp in one corner; and then came three steps down and five steps up, and then a kind of little upstairs hall and a door that led out onto a balcony, and then a whole series of rooms that led into each other and were lined with books--most of them very old books and some bigger than a Bible in a church.
---
---
Chapter 3 – The Burrow (Description of the Weasley home – The Burrow)
It looked as though it had once been a large stone pigpen, but extra rooms had been added here and there until it was several stories high and so crooked it looked as though it were held up by magic (which, Harry reminded himself, it probably was). Four or five chimneys were perched on top of the red roof. A lopsided sign stuck in the ground near the entrance read, THE BuRRow. Around the front door lay a jumble of rubber boots and a very rusty cauldron. Several fat brown chickens were pecking their way around the yard.
"It's not much," said Ron.
"It's wonderful," said Harry happily, thinking of Privet Drive.


---
Chapter IX - (Mr. Causabon's house)
On a gray but dry November morning Dorothea drove to Lowick in company with her uncle and Celia. Mr. Casaubon's home was the manor-house. Close by, visible from some parts of the garden, was the little church, with the old parsonage opposite. In the beginning of his career, Mr. Casaubon had only held the living, but the death of his brother had put him in possession of the manor also. It had a small park, with a fine old oak here and there, and an avenue of limes towards the southwest front, with a sunk fence between park and pleasure-ground, so that from the drawing-room windows the glance swept uninterruptedly along a slope of greensward till the limes ended in a level of corn and pastures, which often seemed to melt into a lake under the setting sun. This was the happy side of the house, for the south and east looked rather melancholy even under the brightest morning. The grounds here were more confined, the flower-beds showed no very careful tendance, and large clumps of trees, chiefly of sombre yews, had risen high, not ten yards from the windows. The building, of greenish stone, was in the old English style, not ugly, but small-windowed and melancholy-looking: the sort of house that must have children, many flowers, open windows, and little vistas of bright things, to make it seem a joyous home. In this latter end of autumn, with a sparse remnant of yellow leaves falling slowly athwart the dark evergreens in a stillness without sunshine, the house too had an air of autumnal decline, and Mr. Casaubon, when he presented himself, had no bloom that could be thrown into relief by that background.
---
Chapter 1 – The Old Pyncheon Family (The Pyncheon family home)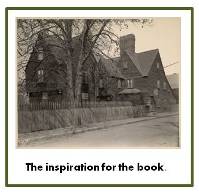 HALFWAY down a by-street of one of our New England towns stands a rusty wooden house, with seven acutely peaked gables, facing towards various points of the compass, and a huge, clustered chimney in the midst. The street is Pyncheon Street; the house is the old Pyncheon House; and an elm-tree, of wide circumference, rooted before the door, is familiar to every town-born child by the title of the Pyncheon Elm. On my occasional visits to the town aforesaid, I seldom failed to turn down Pyncheon Street, for the sake of passing through the shadow of these two antiquities,—the great elm-tree and the weather-beaten edifice.
…
Maule's Lane, or Pyncheon Street, as it were now more decorous to call it, was thronged, at the appointed hour, as with a congregation on its way to church. All, as they approached, looked upward at the imposing edifice, which was henceforth to assume its rank among the habitations of mankind. There it rose, a little withdrawn from the line of the street, but in pride, not modesty. Its whole visible exterior was ornamented with quaint figures, conceived in the grotesqueness of a Gothic fancy, and drawn or stamped in the glittering plaster, composed of lime, pebbles, and bits of glass, with which the woodwork of the walls was overspread. On every side the seven gables pointed sharply towards the sky, and presented the aspect of a whole sisterhood of edifices, breathing through the spiracles of one great chimney. The many lattices, with their small, diamond-shaped panes, admitted the sunlight into hall and chamber, while, nevertheless, the second story, projecting far over the base, and itself retiring beneath the third, threw a shadowy and thoughtful gloom into the lower rooms. Carved globes of wood were affixed under the jutting stories. Little spiral rods of iron beautified each of the seven peaks. On the triangular portion of the gable, that fronted next the street, was a dial, put up that very morning, and on which the sun was still marking the passage of the first bright hour in a history that was not destined to be all so bright. All around were scattered shavings, chips, shingles, and broken halves of bricks; these, together with the lately turned earth, on which the grass had not begun to grow, contributed to the impression of strangeness and novelty proper to a house that had yet its place to make among men's daily interests.


---
(Usher family house)
Shaking off from my spirit what must have been a dream, I scanned more narrowly the real aspect of the building. Its principal feature seemed to be that of an excessive antiquity. The discoloration of ages had been great. Minute fungi overspread the whole exterior, hanging in a fine tangled web-work from the eaves. Yet all this was apart from any extraordinary dilapidation. No portion of the masonry had fallen; and there appeared to be a wild inconsistency between its still perfect adaptation of parts, and the crumbling condition of the individual stones. In this there was much that reminded me of the specious totality of old wood-work which has rotted for long years in some neglected vault, with no disturbance from the breath of the external air. Beyond this indication of extensive decay, however, the fabric gave little token of instability. Perhaps the eye of a scrutinizing observer might have discovered a barely perceptible fissure, which, extending from the roof of the building in front, made its way down the wall in a zigzag direction, until it became lost in the sullen waters of the tarn.
---
Chapter 1 - (Gatsby's house)
My house was at the very tip of the egg, only fifty yards from the Sound, and squeezed between two huge places that rented for twelve or fifteen thousand a season. The one on my right was a colossal affair by any standard - it was a factual imitation of some Hotel de Ville in Normandy, with a tower on one side, spanking new under a thin beard of raw ivy, and a marble swimming pool, and more than forty acres of lawn and garden. It was Gatsby's mansion. Or, rather, as I didn't know Mr. Gatsby, it was a mansion, inhabited by a gentleman of that name. My own house was an eyesore, so I had a view of the water, a partial view of my neighbor's lawn, and the consoling proximity of millionaires - all for eighty dollars a month.
---
Chapter IV - An Evening in Uncle Tom's Cabin
The cabin of Uncle Tom was a small log building, close adjoining to "the house," as the negro par excellence designates his master's dwelling. In front it had a neat garden-patch, where, every summer, strawberries, raspberries, and a variety of fruits and vegetables, flourished under careful tending. The whole front of it was covered by a large scarlet bignonia and a native multiflora rose, which, entwisting and interlacing, left scarce a vestige of the rough logs to be seen. Here, also, in summer, various brilliant annuals, such as marigolds, petunias, four-o'clocks, found an indulgent corner in which to unfold their splendors, and were the delight and pride of Aunt Chloe's heart.
---
Chapter V - The Rector (Broxton Parsonage)
BEFORE twelve o'clock there had been some heavy storms of rain, and the water lay in deep gutters on the sides of the gravel walks in the garden of Broxton Parsonage; the great Provence roses had been cruelly tossed by the wind and beaten by the rain, and all the delicate-stemmed border flowers had been dashed down and stained with the wet soil. A melancholy morning—because it was nearly time hay-harvest should begin, and instead of that the meadows were likely to be flooded.
But people who have pleasant homes get indoor enjoyments that they would never think of but for the rain. If it had not been a wet morning, Mr. Irwine would not have been in the dining-room playing at chess with his mother, and he loves both his mother and chess quite well enough to pass some cloudy hours very easily by their help. Let me take you into that dining-room and show you the Rev. Adolphus Irwine, Rector of Broxton, Vicar of Hayslope, and Vicar of Blythe, a pluralist at whom the severest Church reformer would have found it difficult to look sour. We will enter very softly and stand still in the open doorway, without awaking the glossy-brown setter who is stretched across the hearth, with her two puppies beside her; or the pug, who is dozing, with his black muzzle aloft, like a sleepy president.
The room is a large and lofty one, with an ample mullioned oriel window at one end; the walls, you see, are new, and not yet painted; but the furniture, though originally of an expensive sort, is old and scanty, and there is no drapery about the window. The crimson cloth over the large dining-table is very threadbare, though it contrasts pleasantly enough with the dead hue of the plaster on the walls; but on this cloth there is a massive silver waiter with a decanter of water on it, of the same pattern as two larger ones that are propped up on the sideboard with a coat of arms conspicuous in their centre.


---
Chapter VI - The Hall Farm
EVIDENTLY that gate is never opened, for the long grass and the great hemlocks grow close against it, and if it were opened, it is so rusty that the force necessary to turn it on its hinges would be likely to pull down the square stone-built pillars, to the detriment of the two stone lionesses which grin with a doubtful carnivorous affability above a coat of arms surmounting each of the pillars. It would be easy enough, by the aid of the nicks in the stone pillars, to climb over the brick wall with its smooth stone coping; but by putting our eyes close to the rusty bars of the gate, we can see the house well enough, and all but the very corners of the grassy enclosure.
It is a very fine old place, of red brick, softened by a pale powdery lichen, which has dispersed itself with happy irregularity, so as to bring the red brick into terms of friendly companionship with the limestone ornaments surrounding the three gables, the windows, and the door-place. But the windows are patched with wooden panes, and the door, I think, is like the gate—it is never opened. How it would groan and grate against the stone floor if it were! For it is a solid, heavy, handsome door, and must once have been in the habit of shutting with a sonorous bang behind a liveried lackey, who had just seen his master and mistress off the grounds in a carriage and pair.
But at present one might fancy the house in the early stage of a chancery suit, and that the fruit from that grand double row of walnut-trees on the right hand of the enclosure would fall and rot among the grass, if it were not that we heard the booming bark of dogs echoing from great buildings at the back. And now the half-weaned calves that have been sheltering themselves in a gorse-built hovel against the left-hand wall come out and set up a silly answer to that terrible bark, doubtless supposing that it has reference to buckets of milk.
Yes, the house must be inhabited, and we will see by whom; for imagination is a licensed trespasser: it has no fear of dogs, but may climb over walls and peep in at windows with impunity. Put your face to one of the glass panes in the right-hand window: what do you see? A large open fireplace, with rusty dogs in it, and a bare boarded floor; at the far end, fleeces of wool stacked up; in the middle of the floor, some empty corn-bags. That is the furniture of the dining-room. And what through the left-hand window? Several clothes-horses, a pillion, a spinning-wheel, and an old box wide open and stuffed full of coloured rags. At the edge of this box there lies a great wooden doll, which, so far as mutilation is concerned, bears a strong resemblance to the finest Greek sculpture, and especially in the total loss of its nose. Near it there is a little chair, and the butt end of a boy's leather long-lashed whip.
The history of the house is plain now. It was once the residence of a country squire, whose family, probably dwindling down to mere spinsterhood, got merged in the more territorial name of Donnithorne. It was once the Hall; it is now the Hall Farm. Like the life in some coast town that was once a watering-place, and is now a port, where the genteel streets are silent and grass-grown, and the docks and warehouses busy and resonant, the life at the Hall has changed its focus, and no longer radiates from the parlour, but from the kitchen and the farmyard.


---
Hansel and Gretel
- Brothers Grimm
Translated by Margaret Taylor
It was now three mornings since they had left their father's house. They began to walk again, but they always got deeper into the forest, and if help did not come soon, they must die of hunger and weariness. When it was mid-day, they saw a beautiful snow-white bird sitting on a bough, which sang so delightfully that they stood still and listened to it. And when it had finished its song, it spread its wings and flew away before them, and they followed it until they reached a little house, on the roof of which it alighted; and when they came quite up to little house they saw that it was built of bread and covered with cakes, but that the windows were of clear sugar. "We will set to work on that," said Hansel, "and have a good meal. I will eat a bit of the roof, and thou, Grethel, canst eat some of the window, it will taste sweet." Hansel reached up above, and broke off a little of the roof to try how it tasted, and Grethel leant against the window and nibbled at the panes. Then a soft voice cried from the room,
"Nibble, nibble, gnaw,Who is nibbling at my little house?"
---
Conclusion - Houses in Fiction
The descriptions of houses in fiction often foreshadow what events are about to transpire within their walls. Since drama makes for a good story the houses are often seen as dark and brooding. Conversely, where they are intimately tied to a hero, they often share his traits. Thus, the House at Bag End seems as cheerful as its occupant.
I was a little surprised in doing my research for Houses in Fiction, that several books that have "House" in the name barely touch upon a description. I would have thought that The Fall of the House of Usher would be more descriptive. I was expecting something truly malevolent from Poe, but his focus was on the feelings that the house inspired rather than the house itself.
This brings me to my problem. We should be able to fill pages and pages with houses in fiction, but I need your help to finish construction of this special library section of my virtual house.
So, what are your favorite houses in fiction?



Houses in Fiction - Return to Top

Home


Like Me! Tweet Me! Comment! Tell your Story!
Please!
Is there a house in your story? Is there a story in your house?
Does one of your favorite books have something to say about a house? I would love for you to share an excerpt describing a house or describing what a character feels about a house. Or perhaps your own house is worthy of merit. My site is all about houses. Try your hand at describing your house.