Below is a copyrighted article intended for publication outside of this website. Code has been put in place so that this page will not be crawled and no links point in to it.  This is to ensure that it will only show up on searches as appearing in your publication.  
Joffre Essley is the author and he affirms that the words  are his alone. Photographs are his unless otherwise noted.
No one is permitted to publish this article without the permission of the author. He will only give one publisher permission to print or distribute this article. However he reserves the right to create and publish articles on the same subject through other publishers.
Publication will require a follow link to a page on www.house-design-coffee.com to be designated by the author. Further, information about the author will be published, either at the bottom of the article or on an alternative page agreed to between the publisher and the author. The author information will link back to the main page of www.house-design-coffee.com through the anchor text "House Design" or other words agreed to by the Author.  
The author's name will link to his google profile, unless other arrangements have been made.
Author retains the copyright on the article.  Permission to publish is restricted to the publications listed in the agreement between the author and the publisher.
Side-Opening Ovens for the Accessible Kitchen
I used to say that a Gaggenau oven was your only option if you were looking for a side-opening oven. It is still the case that the major consumer brands have missed this market and that your only options are ovens aimed at the gourmet market or commercial kitchens.  
For an oven with a pull-down door I can find a large selection of ovens for under $1,000.  When I look for ovens that open to the side it was only with great difficulty that I found anything less than $2,000. Get on the commercial side and you can easily work your way up to $10,000. Now with this large outlay of cash you will get a great oven.  You will get far more than just fancy doors.
A side-opening door is a must have for lots of people.  If you are in a wheelchair you are all too aware of the problems, and dangers, of trying to work around that big drop down door. Other people may have bad backs or other concerns that make the traditional oven a bad idea. With a side opening door you have much better leverage when you are pulling that hot pan from the oven.
Strangely, microwave ovens are almost all side-opening.  Why doesn't a standard feature for that  technology translate into an option with the older technology?  
Until the big players get their act together let me review some of your options in the category of ovens.  The first few I list are either sellers of luxury appliances or provide commercial kitchen equipment, or they do both.  The last two sell at the upper-end of the mass market, but are not big players in the United States.
Gaggenau
Gaggenau is highly respected for their consistent heating and their design.  They put a lot of money into making them look good, but they make sure they cook great as well.  Gaggenau is a German company now owned by Bosch.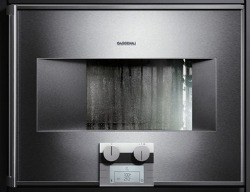 The Gaggenau oven doors all are full-width.  This was good enough for me until I took a look at some of their commercial competitors which have dual French doors. Honestly, the French doors are probably a great thing in a busy restaurant kitchen.  You don't want to whack the Head Chef in the face when you are trying to get to your soufflé, but in the quieter confines of the home kitchen you can probably get by with a the full-width doors.
American Range
American Range makes commercial ovens, but they also have entered into the residential oven market. Most of their residential ovens have drop down doors.  One built-in 30" wall-unit model has a "single French door". Actually that just means that one door has a handle. Both sides open, but you wouldn't know that from their web site. They probably saved $20 by only having one handle, but this is a unit that costs $3500. Then they compound the mistake by making you have to dig to determine that both sides open. It seems to be a vestige from the commercial market, where single French doors are common.
This oven is both a traditional oven and a convection oven. They also offer convection ovens, which all seem to be double French doors.  They do not appear to have any commercial units that are designed to be built-in. I am not sure if the commercial units can function as a traditional oven.
Blodgett
Blodgett claims to be the leading provider of commercial ovens. You can find a few models that will sell for under $3,000. Nothing is designed as a built-in unit. Most of their side-opening units are convection or steam-convection ovens.
Blue Star
Blue Star makes commercial equipment but has also entered into the residential market.  Their wall-mounted ovens have French doors. I am sure there are lots of good technical reasons to buy Blue Star, but the one that excites me the most is aesthetic. Blue Star ovens come with a choice of 190 different colors and three different textures. You can go with just about any color of enamel, or a range of metallic options.
It is worth a trip to their website just to check out the color options. The downside is that you may need to take out a second-mortgage to afford a Blue Star, but your kitchen will be rockin'. The design isn't as cutting edge as Gaggenau, but some of us prefer the traditional look.
AEG
AEG offers side-opening ovens for about $1,000, but I am not sure they are available in the U.S. They are a very old German company, like Bosch, and make many things besides appliances.
Most of their ovens are drop-down, but they do offer one model that is full-width side-opening. With a large smoked glass door you can see the full interior. The trim is stainless steel.
AEG was a pioneer in making appliances look good, so I was a little disappointed. The ovens look good, but seem to lag Gaggenau.
Fagor
Fagor is a Spanish appliance company that is big in the European home appliance market. They are comparable to General Electric or Kitchen-Aid. They offer full-width side-opening door ovens for just over a $1000. If they push hard in the U.S. perhaps our big appliance companies will respond with a little door innovation, but for now they are such a small player in the U.S.  that they are easily ignored.
In the meantime they seem to be the best bet for a reasonably priced, side-opening oven.
About the Author
Joffre Essley is not allowed to cook in his household owing to a few unfortunate incidents.  This has not interfered with his love of devices operating at the intersection of form and function.  He spends his free time blogging on house design and tending to his garden.
---
NOTE ON IMAGES:  These images were borrowed from the respective vendor's websites without specific authorization.  Use at your own risk.
Like Me! Tweet Me! Comment! Tell your Story!
Please!