Greek Revival Architecture - As American as Democracy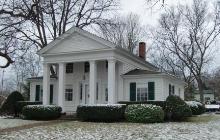 Greek Revival architecture was a contender to be the dominant style for house construction starting in about 1820 and running to the Civil War. Greece evoked images of democracy and America was all about democracy. There was also a Greek rebellion against the Ottoman (Turkish) Empire about this time and Americans were very supportive of this movement.
The style itself had a slow start in England in the 1750's, but was starting to make inroads in Europe by the end of the century. However it was in America that it had its greatest success.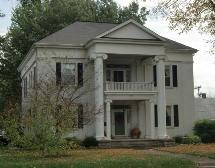 For a while there were strong Greek Revival proponents who disdained all things Roman. Just as the Renaissance architects put down all things Gothic, so these purists considered the arch to be a sacrilege against the sublime beauty of the Greeks. Thus it is always in architecture. Nevertheless, Greek Revival architecture is interesting and can be quite beautiful.
Greek Revival Architecture had its start here when Benjamin Latrobe started working on the Bank of Pennsylvania in 1798. Several large public buildings followed and this look was soon translated into house designs and disseminated by pattern books, like Asher Benjamin's The Architect, or Practical House Carpenter (1830).
American Greek Revival Architecture Exteriors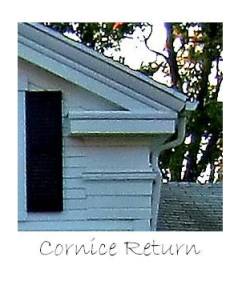 The Federalist house looked like a rectangular house with some pediments over the windows and a porch with columns. With the Greek revival style the house shape itself often became a Greek temple. Rather than tacking something on the front the house would take the same general shape as the Parthenon in Athens. This wasn't true for all houses. Some still just stuck on a large portico, but it tended to be so much larger than a Federalist porch.
For the less prosperous, the house might only suggest Greece by making the gables resemble a pediment on a temple. Sometimes this was only subtly suggested. A cornice return was commonly employed to define the pediment even though the return was truncated. To heighten the effect a deep frieze ran along the bottom of the roof, as though roof was supported by a marble entablature. Sometimes a row of clerestory windows pierced the frieze.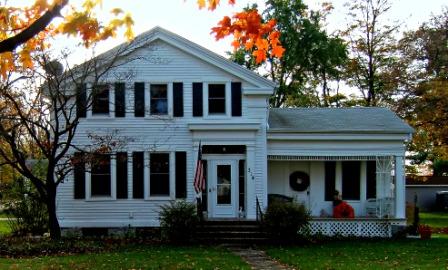 This house has a cornice return suggesting a pediment, even though the second story window would clearly interfere with the pediment's base.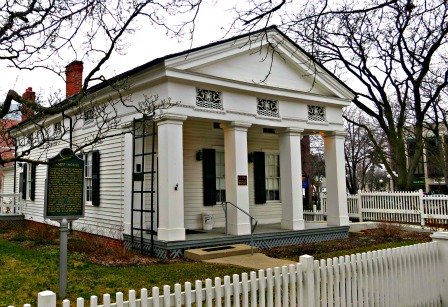 This 1853 house in Ann Arbor, Michigan has the classic temple design.
Pilasters on the corners of the houses gave the effect of columns, but for simple homes in clapboard it was not uncommon for the vertical corner boards to be wider than normal, achieving a similar effect. Columns for the porch were typically Doric or Ionic.
Although many Greek Revival house were symmetrical, this was not always the case. Besides the basic rectangular house, which could either be front gabled or side gabled, you could also have an a two-story gabled house with a one story extension out to the side. If this was extended on both sides it is known as an upright with double-wings and is symmetrical. Its cousin, the upright with a single wing would be asymmetrical when viewed from the gable-end of the two-story house.
Greek Revival houses also occasionally had the door off-center.  See the Kempf House photo above  If the house was a front-gabled rectangle putting the door in the center leading into the central hallway would make the house very wide. For a large house this was no problem. For lesser houses there were two solutions. You could put the door to one side of the porch and have the hallway run along the wall. Another solution was to have the entrance on the side of the house. It was a bit awkward, but front-gabled, side-entry houses were very common.
Another solution to the problem of the hallway running the length of house was to simply give up on the Parthenon shape, and stick to your basic square and stick a temple porch on the front. It wasn't as Greek, but it was common in certain areas.  This sometimes resulted in a house like some that Palladio designed.  Whether it is considered Greek Revival or Palladian depends upon how many features it shared with either style.  A line of symmetrical outbuildings would favor Palladian.  A heavy entablature would favor Greek Revival.
The color pallete changed with the move to Greek Revival architecture. Houses were often white, but grays and muted earth-tones were acceptable so long as the trim was white.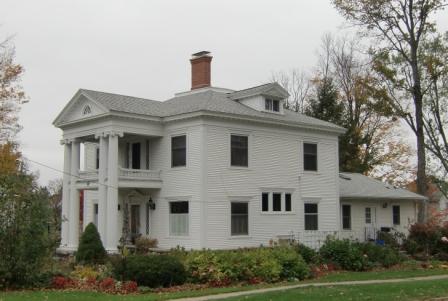 Greek Revival or Palladian.  The two-tiered porch is one of Palladio's innovations.  The fan light isn't typical of Greek Revival, but if you asked the owners there is a reasonably good chance they'd claim Greek.
Greek Revival Architecture Interiors
Interiors were further simplified from the Federalist. Walls were generally bare of paneling or chair rails. Ornamentation was confined to structural elements like doorways and fireplaces. Doorways between rooms were wider, offering a more open feeling. Sometimes the rooms would not be closed off from each other and instead columns in place of walls would create a division of space. In other cases that new invention, the sliding door, was used to allow for wide openings but still provide privacy when needed.
In Greek Revival architecture the ceilings were higher than in most Federalist houses and this gave the opportunity to have taller windows. Together with the enlarged openings between the rooms Greek Revival houses had better natural lighting than their predecessors.
Greek Revival Pictures
On a recent trip to Michigan I had a chance to take lots of pictures of Greek Revival houses. Michigan has quite a few Greek Revival style houses. These are primarily from around Ann Arbor, plus one from Holland and few in Jonesville. Put your cursor over the picture for an explanation of the photo.
The first picture below will link to a second page, where I will give you a short history of the oldest house in Hillsdale county, with several pictures telling the story.
The second picture will take you to a separate page featuring Greek Revival houses in the Ann Arbor area.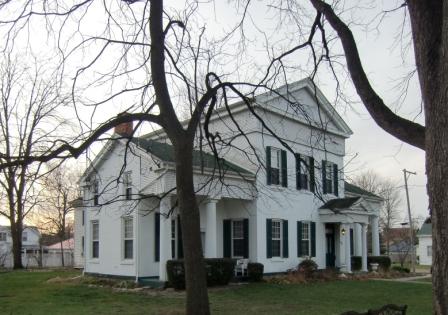 Click on the picture above to learn the history of this neat old house.
---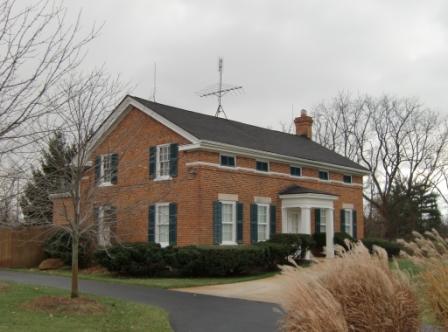 Click on the above pic to find more about this house and more like it in the Ann Arbor, Michigan area.
---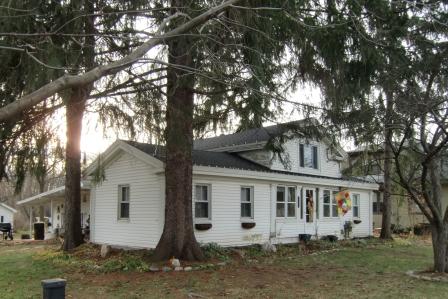 I know nothing about the history of this house in Litchfield, Michigan, but there is a story here. Look at the photo below, which is a close up of the front door area. At one time there was a loggia, an indented porch, behind the four columns and beneath the pediment.
Somebody decided that they would enclose the porch. From a practical standpoint, not a bad idea. If executed properly, probably okay. In this case...oh dear. The inner columns appear to not be reaching all the way to the ground. They are just sort of floating in mid-air.
Perhaps some architectural purist will find this gem and restore it to its proper condition.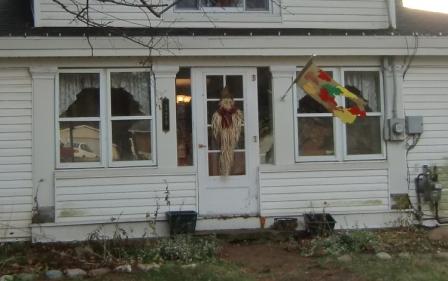 ---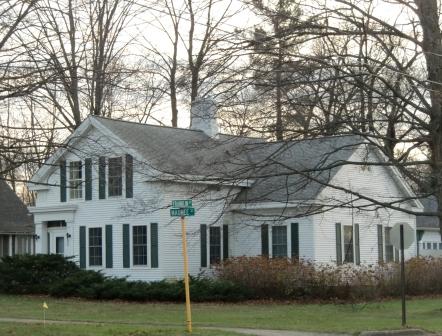 Above and below are two more Greek Revival Houses in Jonesville, Michigan.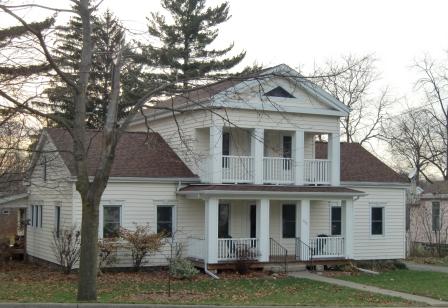 ---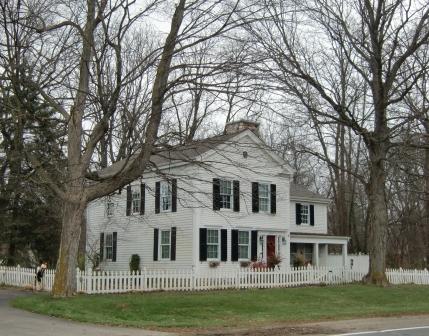 I found the houses above and below while looking for historic houses in Ann Arbor Greek Revival architecture tour. I have no information about these houses.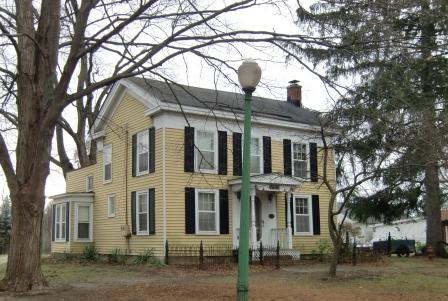 ---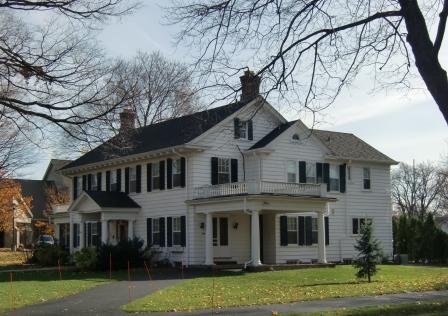 Holland, Michigan has all kinds of neat houses but few are Greek Revival. They do have an awesome Greek Revival church right downtown. It is a great place to visit.
This house is marginally Greek Revival. It lacks a defined entablature, but the detailing on the porch and the mini-carport push it over the edge. It is kind of a Greekified Federalist. There are more houses like this than true, full-blooded Greek temple-style houses.
---
I attach below a short pictorial summary of my Greek Revival houses. Enjoy!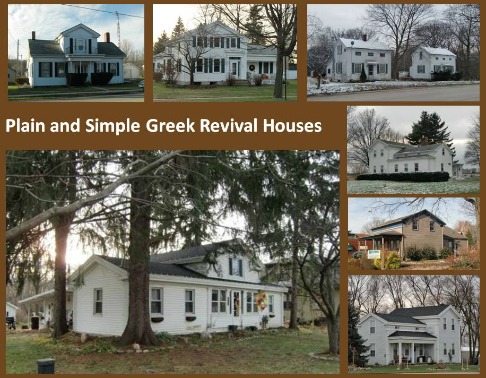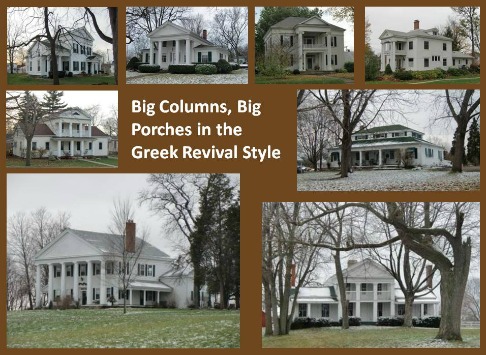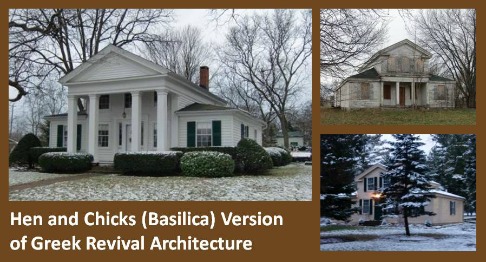 If you enjoyed this article, you may also be interested in my other articles on house styles, where I talk about Georgian, Federalist, Cape Cod, Carpenter Gothic, Italianate, Stick, Queen Anne, Second Empire, Tudor and Craftsman style homes.
---
On to my tour of the George Munro B&B
On to my tour of Ann Arbor's Greek Revival Houses

Greek Revival Architecture - Return to Top

Return to Neoclassical Design

Return to House Styles
Like Me! Tweet Me! Comment! Tell your Story!
Please!
Have A Great Story About This Topic?
Do you have a great story about this? Photos of great houses? Maybe you can add to our body of knowledge about this subject, or maybe you just have questions. Either way feel free to participate in our conversation.
What Other Visitors Have Said
Click below to see contributions from other visitors to this page...

Kellogg Farmhouse

We live in a classic Greek Revival gable front/temple house built between 1832-1856. It was built by Oliver Kellogg during this time. The house is located …
Greek Revival, plus Not rated yet
I am an author, and write for John Wiley & Sons and now Bauer & Dean I have just completed a book for Bauer and Dean titled American Doors. There is a …