Victorian House Plans - Characteristics of the Mature Victorian Style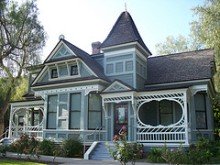 Victorian house plans grew in complexity as the century wore on. With that change came an alteration in the style of the house. This is part two of a two part series. The first part dealt with the early years in the evolution of Victorian home design.
We now take up the thread where the Carpenter Gothic starts to evolve into something new. The Victorian house as planned and executed by the citizens of the gilded age was their father's house on steroids and with the ornamentation of the new age applied.
Steamboat Gothic
The first variant style I am going to discuss is a bit of a regional oddity. Along the banks of the major navigable rivers paddle-wheeled steamboats became the ubiquitous symbol of progress and of a way of life. As steamboats matured they became quite ornate in their fashion and themselves became mid-nineteenth century trendsetters.
The river folk grew enamored with the display and those with money copied what they saw in the decoration they applied to their homes. Tour the towns and country homes adjoining the Southern rivers and you are likely to see a lot of Victorian homes with columns and balustrades that were inspired by these great steamboats.
The steamships often had multiple decks each with elaborate scroll-cut or cast iron rails. The houses followed suit with wrap around porches and highly ornate railings and gingerbread. Usually this was just additional decoration thrown on a typical Gothic Victorian house plan. Only the second-story balconies were at odds with the prevailing Gothic layout, but multi-story porches were already common in the South prior to the advent of the steamboat.
Eastlake Design or Victorian Stick
Victorian Stick, or Eastlake style, retained its Gothic roots. It gets its name from Charles Eastlake, who in 1868 in England published Hints on Household Tastes extolling certain decorative motifs and methods for furniture. When his ideas crossed the ocean Americans applied them to decorating the outside of houses. Charles Eastlake was appalled, but the name stuck.
If Charles Eastlake inspired some of the detailing, the basic look of the house originated out of the type of half-timbered houses common in England during the reign of King James. This was the Jacobean period, and an architect in Britain named Richard Norman Shaw started building half-timbered mansions. It was only a short phase for him, but with the emigration of the style to America, it took on new life when the look was applied to clapboard houses.
In general flat, scroll-cut decoration was replaced with ornamentation in three-dimensions. Eastlake houses have an explosion of lathe-turned spindles applied to the exterior decoration. The use of turned spindles on porch railings was not revolutionary, but rows of spindles hanging down from every horizontal overhang was something new. Often spindles replaced the bargeboard on the gables. Even columns got into the spindle act, looking like legs on a table.
Eastlake design homes usually have vertical, diagonal or horizontal planks painted in a contrasting color in a way that tends to frame the basic clapboard siding. Some of these boards are simply corner boards or molding that would otherwise be there, but some are added for the geometric pattern they create. These framing boards are evocative of half-timbered houses and really where the "Stick" name comes from.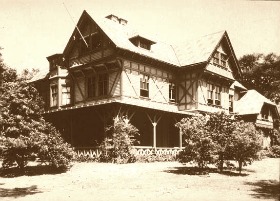 The front porch common on the Carpenter Gothic style house grew to massive sizes when applied to Eastlake and Queen Anne, often wrapping around the house. This became nearly a defining trait of later Victorian house plans, at least for the higher-end homes. Large second-story porches were rare, but small, Swiss-Chalet balconies, projecting a few feet out, were not uncommon.
Whereas in Carpenter Gothic it was common to have one or two gables projecting off the front of the house, with Eastlake you were likely to have several more projecting several directions and a tower or two. Sometime these additions were cantilevered, that is they projected out without going all the way to the ground.
The color scheme of Eastlake houses got a little wilder than their Gothic cousins, if only because there was more ornamentation. Decorative oddities were usually painted a contrasting colors, so they would stand out.
As compared to the Queen Anne, Stick Victorian house plans are a little more squared off or angular. Towers are usually square, and sometimes at an angle to the house.
To boil all this down, there are five things that distinguish Stick-Eastlake from its peers are:
A harder, more angular profile than a Queen Anne
planks visually framing the siding and...
spindles, spindles and spindles
Queen Anne Victorian
The Queen Anne style that came just a bit later than Eastlake also owes its roots to the Jacobean period of the early 1600's, and has nothing to do with Queen Anne.
From the Jacobean's the Victorians borrowed the use of scale-like patterns applied to the exterior of houses. What Eastlake owes to the spindle Queen Anne owes to the shaped wooden shingle.
Mass production made the production of shingles inexpensive, so that they could be lavishly applied over almost any horizontal surface. Under one gable they might be pointed shingles, under another they might be rounded. Elsewhere they might have alternating bands of different shapes.
The shapes of the Queen Anne don't differ too much from the Eastlake style. You still have a multiplicity of gabled extensions coupled with tower. You still have big porches. Queen Anne towers were often round, and corners were sometimes given a curve, as were projecting windows. It was a little further removed from the original Gothic Revival, so some of the ornamentation was less likely to be of Gothic inspiration. The use of shingles could be found on both, but with Stick it was likely to be a minor touch, and with Queen Anne it was often the dominant siding.
The Queen Anne style was also likely to be a crazy collection of colors. The use of four different colors applied to the exterior was not unusual. If you see an old Queen Anne Victorian painted white, that probably happened years after it was built.
So, the easy way to identify a Queen Anne is:
rounded features
shingles, shingles, shingles
There is a variant of the Queen Anne called the Shingle Style. It influenced the Queen Anne, but was mainly confined to the Northeast. With Shingle style shingling replaced all clapboard, but typically only one shingle shape was used. The color was a natural, woodsy color, such as brown or dark green. The emphasis was on blending into nature, rather than standing out from it.
You can't say there was a Shingle-style Victorian house plan, as the layout was not critical, only the surface. Shingle style houses stand-out because they give the illusion of wearing a reptilian skin.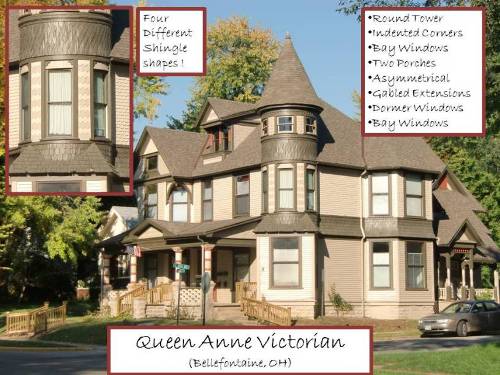 Victorian House Plans as an Eclectic Mishmash Or...Why it is so hard to Classify that House Style
If you look around at enough of these houses you are going to realize the boundaries are blurry. Many people building Queen Anne houses also wanted spindles. The second owner of an Eastlake might apply a bunch of shingles in a renovation. These two styles also lent themselves to improvisation. For someone willing to add a few extra gables and no concern for symmetry in his Victorian house, a plan with a Second Empire roof, or an Italianate copula is likely to be considered a natural extension of his love for architectural experimentation.
The Victorians loved their towers, their bay windows, and little second story porches. These are indicative of Victorian house plans, but it is difficult to say that they point to a specific variant. I have seen these used on all: Carpenter Gothic, Steamboat Gothic, Eastlake style, and Queen Anne.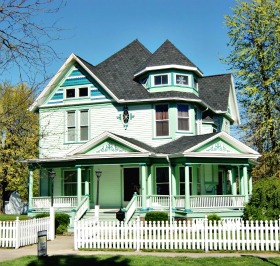 So,when considering whether a house you are looking at is an Eastlake or Queen Anne, or something else, remember that it could be all of those things. All this mixing of genres in a single Victorian house plan is perfectly acceptable, so long as it looks right. In a style that tends to the excessive a little extra will usually not detract from that look. The Victorians that arose from the Gothic and Gothic cathedrals, with their gargoyles and flying buttresses, were no demure wallflowers.
It is interesting to consider that the Victorians, with their strong sexual mores and their attention to propriety in their personal decorum, should create houses that mimicked painted whores on parade and which broke more rules than they followed. There is probably some serious psychological study that has been done on this. Perhaps someone will bring it to my attention someday. I would love to read this.
For more information on the origins of the Gothic Revival stop it at my Victorian house plans history page. I discuss some of the architects important to its development and how it developed as a reaction to Classicism.
In conclusion, if you are wanting to build a house, and you are pouring over Victorian house plans, think like a Victorian. A little extra splash and sizzle is far more authentic than a restrained, spare look.
The Blurring of Gothic and Classical - an Addendum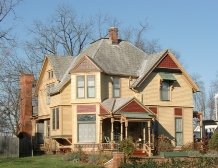 In this article I traced the line of Gothic Houses down to the Queen Anne. As the Gothic Style was originally developed it had a lot to do with the Gothic structural elements, such as pointed arches, and Gothic decoration. By the time you get to Queen Anne, much of that Gothic heritage is lost.
In a Queen Anne house you might find a pointed arch, and you might find steep gables, but you are also likely to find Roman arches, Greek Columns, and Classical pediments. So why have I claimed it's descent from the Gothic Revival?
First, it had as its organizing principle the picturesque. Picturesque was a word used to describe that asymmetrical, rambling quality, as compared to the orderly, symmetrical layout of a Classical design. It was a solidly Gothic Revival concept.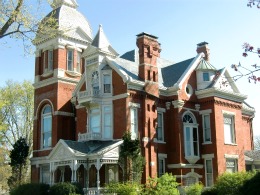 Second, it drew its inspiration from a style of home that was popular at the tail-end of the Gothic period and which had no association with Classical architecture. This borrowing from the vernacular was part of the same reaction against the Classical that inspired the Gothic Revival.
Third, it carried over much of the external decoration of the Carpenter Gothic houses. Scroll-cut bargeboards, swiss-chalet balconies, covered porches - these continued on with the Queen Anne.
It is fair to say that the American Queen Anne is a mish-mash, a borrowing of a lot of things. It may have sometimes been infused with some Classical elements, but upon a base that grew out of the Gothic Revival.
Top of this Page - Victorian House Plans Page 2

Return to Victorian House Plans - Previous Page in this Series

Continue on to Gothic History

Continue to Italianate Houses

Return to House Styles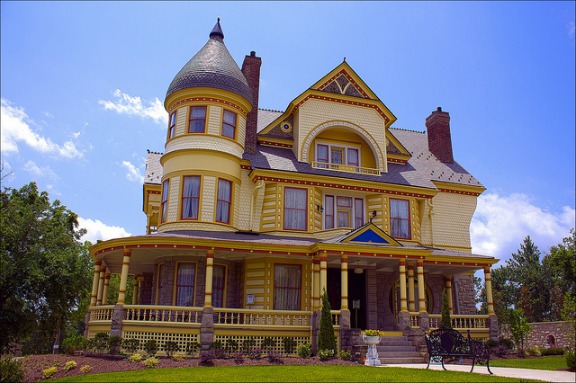 Like Me! Tweet Me! Comment! Tell your Story!
Please!
Have A Great Story About This Topic?
Do you have a great story about this? Photos of great houses? Maybe you can add to our body of knowledge about this subject, or maybe you just have questions. Either way feel free to participate in our conversation.