2013 BIA Parade of Homes
at Jerome Village in Dublin, Ohio
2013 BIA Parade of Homes?
But of course it is not actually about me and my silly contest.  Its about the Parade of Homes.  This year's parade is in Jerome Village, in Union County, in the Dublin City School District. That is in Northwest  Columbus.
They have 13 homes by 11 builders.  These homes all list in the $500,000 to $800,000 range.  Even if that is outside your range these homes will be stocked full of features and design ideas that might fit in your price range.
This is also an excellent chance to get a feel for a builder.  Here are 11 to choose from and you will get to see their handiwork up close.
The show starts on June 15th and runs through the 30th.  Houses will be open everyday from noon to 9 pm, except Saturdays, when they close at 6 pm.  That is a lot of open hours.  That means you can swing by after work.  No excuses.
Tickets are $12 for adults. Parking is $2.  But you can always cut your costs by winning my free tickets.  See above.
You can't have a great parade without a theme, and this year's theme is "Naturally Inviting.  Awe Inspiring." Okay, I admit I have no idea what that means, but it sounds great.  If someone asks you where you are going, just tell them you are getting your awe inspired.
I had a chance to go in advance of the show.  I am still working on my write up of my visit but you can read what I have got at my Sneak Preview of the 2013 BIA Parade of Homes at Jerome Village.
See the link at the bottom of the page for the BIA Parade website.  It is tough to find the address on their page, so I will give it here - 7920 Brock Road, Plain City, Ohio.  It is just north and west of Dublin and close to Glacier Ridge Metro Park.
Parade of Home Builders
3 Pillar Homes

Bob Webb Homes

Compass Homes; Coppertree Homes

Manor Homes

Memmer Homes

New England Homes, LLC

Rockford Homes; Romanelli & Hughes

Truberry Custom Homes
A Quick Look
Here are some pictures I was able to pull from various sources before my visit.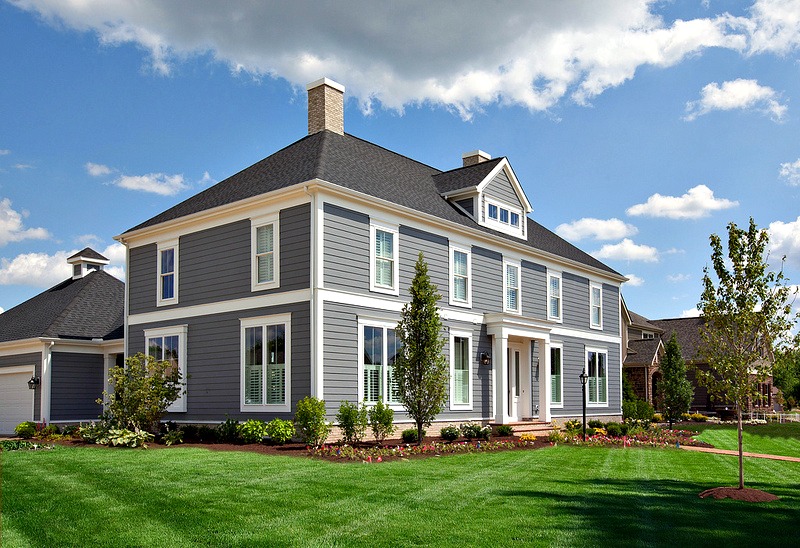 This is my favorite, based on the exterior shots. Not so much because it looks like a historical home as because it look the least like modern suburbia.  Not that suburban homes are bad, but I like things that go against the grain in some way and this one does.  And best of all, the garage is in the back, where it belongs.  See my many pages on the garage problem.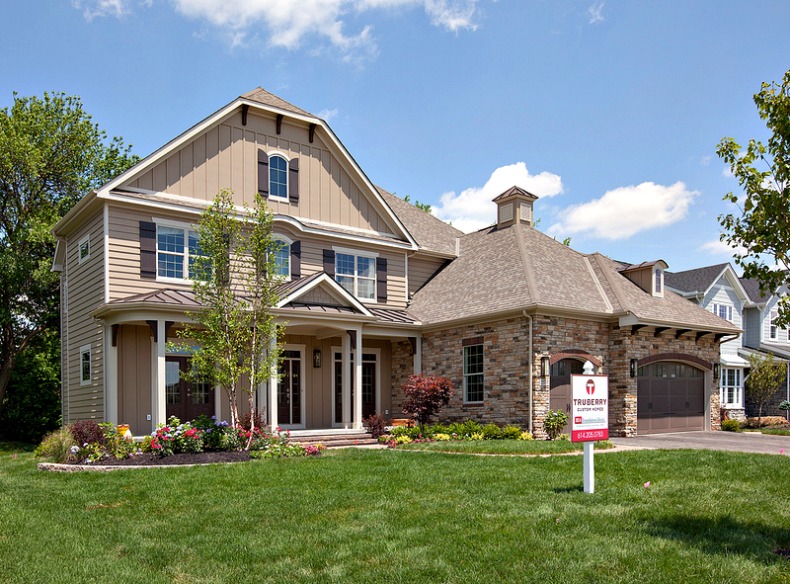 Truberry Custom Homes offers this house.  Look for my review sometime after my visit on 6/11.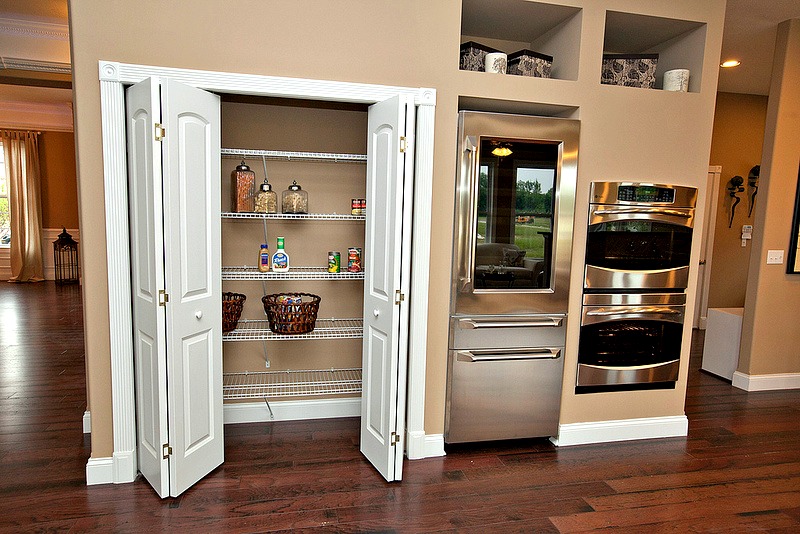 Everybody loves kitchens.  Everybody wishes theirs was just a little bit nicer. Well, get ready to fork over some more money, because you will probably see things you just gotta have while you are at the parade. Unless you are like me. A rock. Impervious to the lusts of the eye. And broke. That last one is the kicker. But I will be sure to tell you what I would want if I were in a position to want.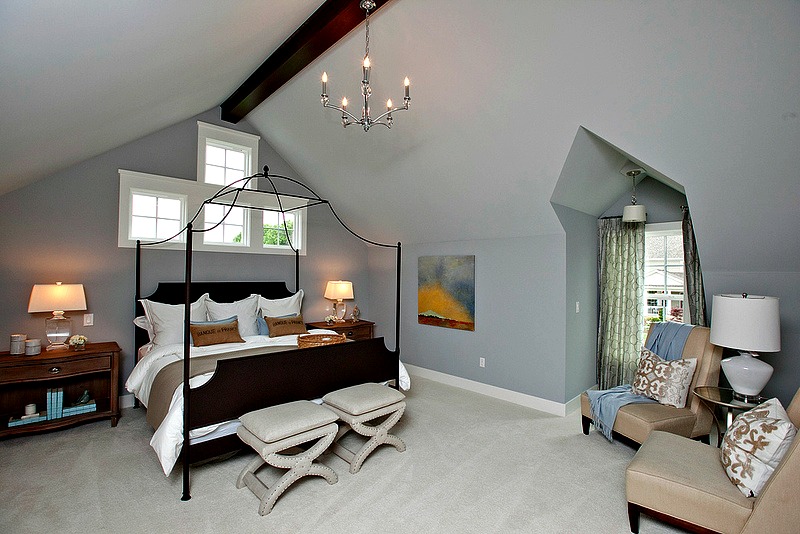 Bedrooms, bathrooms, living room, they will all be on display at the Parade. Not actually lived in, but looking like they are lived in. Except for the complete lack of dirty clothes, cobwebs, dust or crackers in the couch that real lived in houses have. These houses are inhabited by perfect people that don't make messes and invite perfect strangers into their homes.
A Free Commercial
| | |
| --- | --- |
| | See the video link to the left?  It is fake.  It actually takes you to the Flickr page which has the real video link. |
FREE TICKETS!
I've done it!  I was able to get promotional tickets from the good folks at the 2013 BIA Parade of Homes (see below) and now I am going to give them to you.
But...there is a catch.  I only have 20.  I am going to give them away two at a time to people who send me photos of their favorite houses.  Then I will post these photos on my website - on this page or perhaps a linked page.
Here is how it will work:
Send your photo or photos to homesower@yahoo.com along with your mailing address and name.
All photos must be in by June 12th.  I will mail the tickets out on June 13th.
Sending photos in gives me permission to use them, so these must be photos that you have permission to use.  Keep it real.  Take them yourself, or pull them from your old photo albums. By law you can use photos of any home in the United States so long as you take the photo from a public thoroughfare.
Since I may get more than 10 entries I will judge them based on their bloggability.  That is to say that this is about what photos will look best on my website.  Did I mention that this is a promotional giveaway?
Using some or all of these photos I will create my own 2013 House Design Coffee Parade of Homes.  If I only get one entry I will call it the "2013 House Design Coffee Parade of Home", although using the term "Parade" for one home will be a bit of a stretch.  Please spare me the embarrassment by sending my your photos.
Interior and exterior photos are welcome.
Please be kind.  Don't send photos in to embarrass your neighbor, no matter how much you hate his purple trim.  Send in pics of houses that delight you.
All unused tickets will be given away to my friends.
I reserve the right to select some winners early.
Alas! The contest is over.  
This inaugural year for the House Design Coffee Parade of Homes I had one, yes one, entry.
Thanks to Courtney Dodge of Richwood for helping me to avoid having a total flop on my hands.  
This means next year I should be able to boast of a significant growth in the participation rate.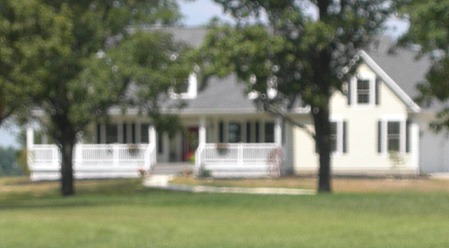 ---
To Top of Page - 2013 BIA Parade of Homes
To 2013 BIA Parade of Homes location page
To Sneak Preview of the 2013 BIA Parade of Homes at Jerome Village
Home - House Design
---
Like Me! Tweet Me! Comment! Tell your Story!
Please!