2012 Columbus Home and Garden Show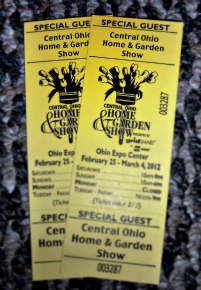 If you are talking home design and construction the Columbus Home and Garden Show is the big story in Central Ohio this week. It started today and runs through March 4th. If money is going to flow from your bank to a contractor any time soon you should probably drop by. If you are in Texas, or Australia then you'll need to find your own show.
Here is why I went:
As an influential member of the media elite it is my responsibility to report on significant events in my area of expertise.
I needed lots of photos for my website.
You may question if I qualify as an influential member of the media elite. A lowly blogger surely does not belong in the illustrious company of writers for the Columbus Dispatch, the print monopoly for this area. I beg to differ.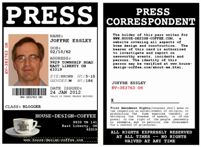 As proof I offer exhibit A, my press pass. Exhibit B is the two yellow, "Special Guest " passes I scored from the Media Relations Queen, Amy Weirick. I think her official title is less lofty, but I'll grant her the more august title because I also got some free peanuts out of the media center. Granted, no one was looking when I took them, but I am quite sure she wanted me to have them.
Now, about the 2012 Columbus Home and Garden Show: it is big. I am sure there are many such shows that are bigger, but I would not want to go to them. I was worn out as it was. There are dozens of aisles and hundreds of booths, and like most major exhibitions, the organizers don't provide any helpful signs to tell you what is where.
It all becomes like a maze, one of those ones that keeps taking you back to the same place, the place you don't want to go. I am sure Harry Potter would have found his way out, but I would gladly have accepted help from visual aids. For instance the Fairground people could have painted one of the walls a different color so I could always look up and orient myself. The best I could muster was the large red awning over the food court area, but it wasn't high enough to be visible all the time and periodically somebody kept taking it down and moving it to another part of the building. Or perhaps it remained in one place and I was the one transported to another part of the building. Either way it was very confusing.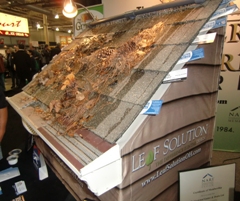 The one thing that you do not want to use as a landmark was the neat display where water is continuously pumped onto a roof and then flowed off, over the gutter protector and into the gutter. That is because, for what ever reason, every fifth booth had one of these, and they all tended to look alike. I want to thank the people at Professional Gutter and Drain, Ltd who had the consideration to decorate their display with leaves and sticks like real roofs have. It proved a helpful sanity check to prove I had not entered to some long lost episode of The Twilight Zone.
With all my discouraging talk about getting lost you might get the wrong impression. You might think that I didn't enjoy myself at the 2012 Columbus Home and Garden show. You would be mistaken. I may have continuously found myself twisted around, but I always ended up at a booth or display that had something interesting to add to my knowledge of home design and home improvement.
For instance Rob Wiseman at Better Home Design gave me some excellent advice that I will soon be incorporating into my pages on siding. I also had a wonderful talk with Nelson Behr, the Big Kahuna at Design Directive about residential architecture. I checked out the numerous kitchen displays, most of which appeared to cost more than my house and were so nice I almost decided to take up cooking. I saw numerous booths that sold one kind of floor covering or another, whether for inside the house or outside the house and I learned how to fix the catastrophe I call my garage floor. All-in-all, it was a successful foray into the world of home and garden journalism.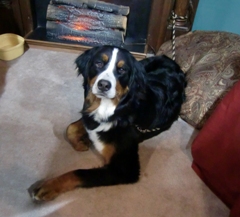 I found two booths that I especially enjoyed. Over at the DeCenzo Company booth Joe DeCenzo was assisted by Grizzley, a Bernese Mountain Dog with impeccable decorum, and the first dog to have his picture posted on my website.
For creativity I have to give the nod to Prestigious Concepts, masons. Brian Cyre created a stone coffee table that is also a fountain, with water bubbling out of the champagne bottles. My picture collage does not do it justice. I am not sure of its practical value, but any mason who can figure out how to make this work is certainly qualified to handle the biggest and most difficult masonry jobs.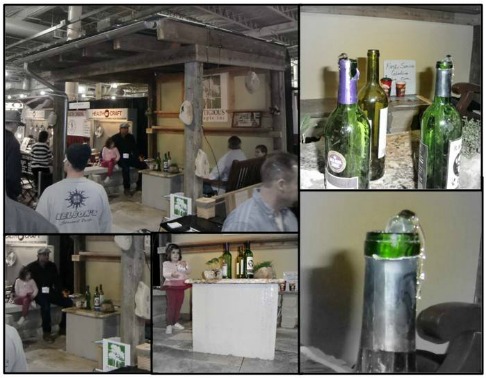 To Top of the Page - 2012 Columbus Home and Garden Show

To Home Shows

Home