Pieter de Hooch's Interiors
Earlier we met Jan Vermeer. Pieter de Hooch was his compatriot. They both lived in Delft for a few years and it is likely that they influenced each other, though who was the originator of this style is unknown. Perhaps they were equal contributors.
Pieter's father was a mason, which may explain why he has such an eye for architectural detail. Pieter de Hooch (pronounced de Hoog), even more than Vermeer, is very precise in the settings he displays. He seems to want to display not just the subject, but those things around the subject that would be part of their world.
I display his interiors on this page. As you can see, there is enough light even in his shadows to get a glimpse into the world of these seventeenth century townsmen. His earlier pictures would be from Delft. His later pictures from Amsterdam. His later work tended to focus on fancier homes, but are darker, perhaps reflecting his unhappy life.
Pieter de Hooch's exteriors are a special treat and I will deal with those elsewhere.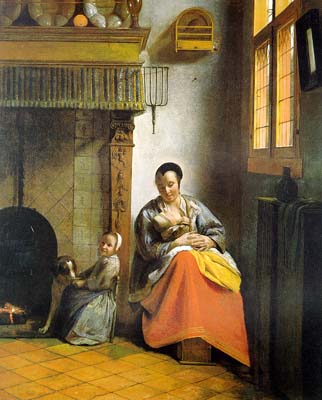 In an earlier page I could not figure out if some draping was for a door or a fireplace. Here we clearly see that the fireplace mantels sometimes had a decorative curtain hanging down from the lip. I believe that this was to catch some of the smoke escaping the fireplace, potentially preventing a smokey black ceiling over the fireplace.
Note the plates over the mantel. This picture shows that this is a custom that goes back at least to the 1600's.
The decorative tile was not reserved for the floors. The fireplace has a nice tile treatment. Once again the walls are plain. The splash and pizzazz comes from the tile, the carved woodwork, and the colorful textiles.
The door is propped open, and we can spy on the couple as he entices her with the present of a bird. Pieter de Hooch sets a scene and tells a story, but I am going to leave that theme and focus on the details around them. Let's start with the near door. A mop is leaning against it, but it also a heavy curtain draped over it. It is not clear what room we are in, but it seems that when the door is closed it is shrouded in a curtain. Whether this was to prevent drafts, or to hide the door is unclear.
The door is a paneled door, which is appropriate as the next room is a very fancy room. The tiles give a hint that this is so, but it is the doorway opposite that proves this. The doorway has a large carved or plaster mantel above it, and the ceilings are quite high.
We don't see much in the way of the ceiling. It appears to have exposed beams, but also seems to have a strip of molding running along the top of the wall.
Beyond the door is a hallway and then another room. The doorway to that room is arched.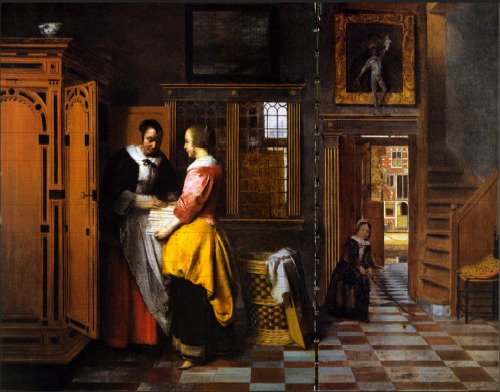 This Pieter de Hooch painting has been damaged. It has been stitched together.
Once again the floors are tiled, but this time there are two different sizes of tiles. The effect to my eye is confusing, so this is one pattern I will not be copying. The door has a nice fluted pilaster on the one side, to match the window next to it. The pilasters and the picture frame are all gilded with gold.
The picture presented is confusing because there is a statue in front of it. There is a second picture to the left, but it is not in a very good vantage point. Perhaps if we saw the entire room it would look more natural, but as it stands I'd have to take exception to their ideas on displaying art. In most of these Jan Vermeer and Pieter de Hooch interiors there are paintings on the wall, which is perhaps why Delft was able to support a painters guild.
The interesting thing about these window is that they are interior windows. They look out on another room. We rarely see these in modern homes, although glassed French doors give a similar effect. Christopher Alexander is a big proponent of interior windows as he explains in Pattern 194, Interior Windows. He suggests that we use these for corridors and passages. These rooms often can seem isolated and disconnected. Here the next room appears to be some kind of entry hallway so this is a great example of that pattern.
This room reveals a stairway, but it is not a grand staircase. This is a very functional stair that strives for nothing other than taking people to the next level.
The last item of interest is the armoire, or freestanding closet. Old European homes usually lacked built in closets. They really did not come into popularity until the 19th century. This particular armoire has a beautiful inlay, and the blond wood helps to keep the room bright.
There are three things I want to show in this room. First, we once again have interior windows, this time with a curtain for privacy.
Second, behind the couple is a bed alcove. It is framed in wood, or with material stretched tight, but has curtains over the entrance. This made for a warm place to sleep at night. Your body could easily heat such a small space. It also allowed you to use that room for public purposes. Just pull the curtains shut and pretend it's not their. Private bedrooms were luxuries back then.
Bed alcoves are an idea promoted by my favorite architectural theorist, Christopher Alexander. In his Pattern #188, Bed Alcove, he promotes the idea of placing bed alcoves off of public rooms, and Pattern # 143, Bed Clusters, he suggests placing bed alcoves for children around a common play room.
The third thing I want to focus on is the board above the window. It appears to be attached to the ceiling, but it is actually hinged to the window. It is an interior shutter for the upper window. Remember how only the lower window was protected by the exterior shutter? Here we can see how the rest of the window was guarded. The arrangement makes no sense to me, but, at least in Delft, it appears to have been the standard shutter system employed.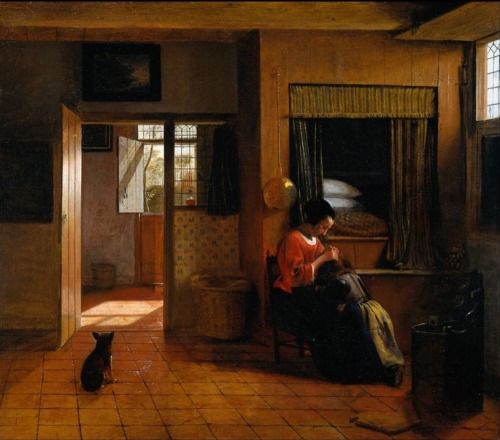 This room is almost a repeat of the previous room.
The lower shutter is still closed in this scene.
Once again we have a painting over a door. We also have what appears to be tile on the wall next to the door, although it could be wallpaper.
Looking beyond the door we see another split Dutch door. This particular door also has lights (windows) above the door.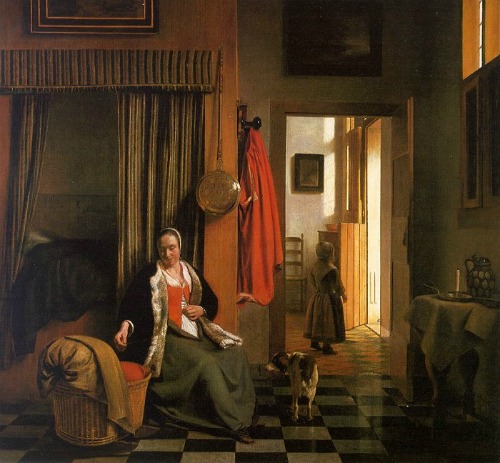 There is not much new here, but I will point out the warming pan behind the woman, hanging on the bed alcove. These would be filled with some coals and placed under the covers to pre-warm the bed. The houses were not going to stay heated overnight, so you had to keep the bed warm in other ways.
It is another example of the detail that Pieter de Hooch put into his paintings and for that I am most grateful.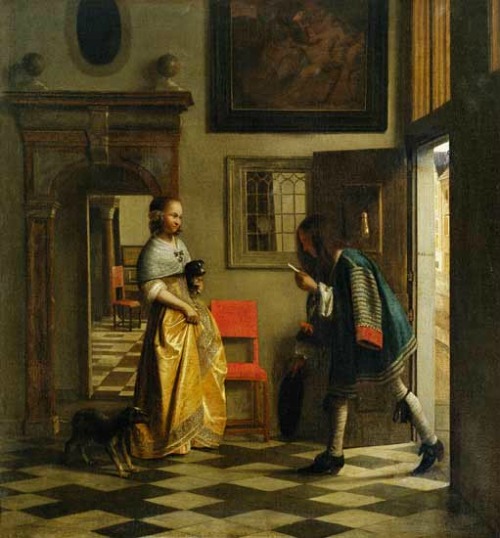 Here we have another house with strong Classical elements. The near doorway consists of square columns supporting an arch, and the far door has a round column supporting an architrave.
The door to the outside has a large bank of windows above the door, so the lady is not in shadows, but well lit.
Again we have an interior window connecting an entry hallway to a room or to another hallway. The interior windows help visitors develop a sense of the layout of a house, so they are more relaxed.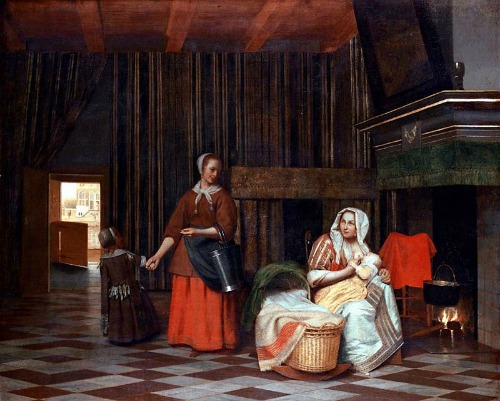 Here we have a room dominated by textiles. The fireplace and the bed alcove have become familiar to us. The use of draperies to cover an entire wall is new, although we had a hint of it in the picture with the couple and the bird. Once again we see that the door, when closed, will be hidden by drapes. In this case the purpose is probably insulation.
This picture really brings out the openness of these Dutch rooms. There is very little furniture compared to our crowded modern homes. Given his preference for detail I would expect Pieter de Hooch to include furniture if it was there. This suggests to me that the rooms were just as spare as he pictures them.
The ceiling is on full display in this house. Once again we have exposed beams, although here they are very heavy and wider apart.
The term "ceiling" actually has to do with sealing the beams from the floor below, so it would generally refer to plaster ceilings. It has so completely entered our language that I am not sure what to call a ceiling that is not sealed.
I could probably go on with Pieter de Hooch. He painted many scenes similar to those above. I will leave the rest of his paintings to you to study on your own.
For now we will leave Pieter, and leave the Netherlands, and go on to more exotic locations as we study the Orientalist interiors of Frederick Arthur Bridgeman.
We will return to Pieter de Hooch, later, with a final look at exteriors.
---
Return to Original Page in this Series - Houses in Art
Go to the Second Page - Houses of the Old Masters
Go to the Third Page - House Interiors
Go to the Fourth Page - Jan Vermeer
Go to the Fifth Page - Pieter de Hooch
Go to the Sixth Page - Moorish Interiors
Go to the Seventh Page - Courtyard Architecture
---
Like Me! Tweet Me! Comment! Tell your Story!
Please!