Deceive: Carriage House Doors
Carriage house doors were a side opening door, and they were the 19th Century equivalent of the overhead garage door.
One of the hottest areas of innovation in the garage door industry is in the area of deceiving the eye into thinking that the garage door is another type of entryway. By nature of its design the garage door is set into some kind of opening, and that opening tells everybody that they should be expecting some kind of entryway into the house. Since it is so hard to hide that there is going to be some kind of door, these doors deceive the eye as to the type of door you are looking at.
The most common deception is to make overhead garage doors look like carriage house doors. In many cases the garage door will have a fake center pillar separating the two sides, so that a very wide garage door can appear to be doors for two smaller carriage house entryways. Garage doors can also be made to look like barn doors. In other cases they will appear to be a line of French patio doors.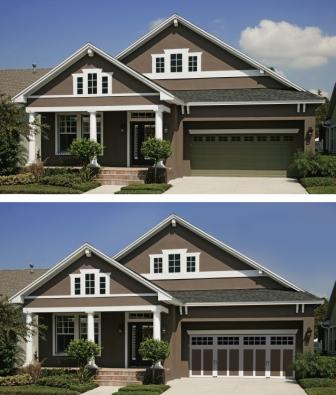 Some of these doors are extremely effective at fooling the eye. While all the major door companies have good-looking products that will do the job, the best I have seen have been custom-made. Like these from Bob Moulton, a master of deception, carpentry and garage door engineering.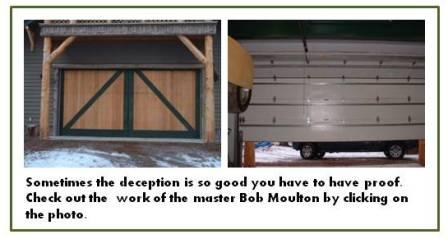 These types of door deceptions do not change the basic problem of the garage being too prominent and distracting the eye from the house. They do break up the bulk of the garage door. By making one large door appear to be two or three or more doors the eye is less likely to be overwhelmed. The viewer's eyes find it easier to move on.
The doors themselves typically look very nice and almost always look much nicer than a plain garage door. They do come with a price. Carriage house door look-alikes usually cost more than your other forms of garage doors. But the cost is cheaper than making major architectural changes to fix the garage problem and, if the deception is effective, it will add to the house's resale value.
It is not so much that you really expect to fool people, it is that you want the deception to appear natural. If it looks strange their eyes will linger on the garage and you will have failed. If the door fits the context then the advantages of the doors will hold sway, and their attention can be directed towards the house itself.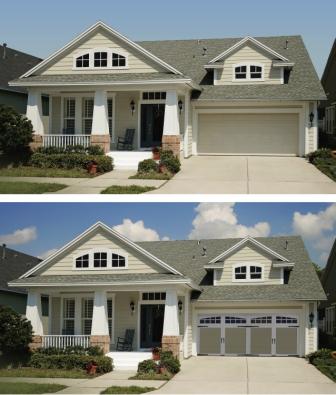 As with any deception, it works best if there is plausibility to the deception. Carriage house doors won't look right on a modern, contemporary house, so they may just make the situation worse. Pretending that garage doors are patio doors will work out better if the driveway looks like a patio. A brick pattern stamped into stained concrete will go a long way towards selling such a deception. Those same beautiful doors opening onto an oil-stained, industrial-looking driveway will appear to be a cheap trick.


Carriage House Doors - Return to Top

Return to New Garage Doors

Return to House Structure

Home


What is your garage story, idea, complaint, or advice?
Do you any suggestions for solving the garage problem? How about some pictures of a great garage redo? Maybe you have a garage atrocity to report?