Colonnade, Arcade and Loggia
A colonnade is often used to describe a type of covered walkway, but so is an arcade, and loggia is another word that describes something very similar.  What are the differences?
A colonnade is a row of columns in line and joined at the top by an entablature. This could be columns on the outer edge of a temple, or columns that form an open, covered walkway.
The problem seems to be that we often use the term "colonnade" to refer to the walkway itself.  If there are columns on either side of the walkway then there are actually two colonnades on either side of a walkway, but in popular usage, the walkway itself is a colonnade.
A colonnade, arcade and loggia all in one, in Querétaro, Mexico.
An arcade is similar, but there are a row of arches, instead of columns. However, if the arches are supported by columns then an arcade can also be a colonnade.
When I hear the term arcade my mind tends to go to that type of commercial area known as an arcade. These are a little like an early shopping mall, with lots of small vendors on either side of an aisle. Back in the day, a few hundred years ago these were often housed in buildings with arches defining bays where vendors could set up shop. The term arcade came from architecture but overtime came to refer to the commercial activity itself.
However, not only did it come to refer to the market it came to refer to the structure housing the market.  So an arcade can mean a covered walkway.
Loggia
I am going to supply two, slightly different definitions for loggia.
In the more restrictive use of the word a loggia fronts a wall of a building, so that there is a row of columns or arches on one, two or three sides, but not the fourth.
Consider this house in Mexico. On two floors it has a colonnaded hallway surrounding a central courtyard. Each floor would be considered a separate loggia, although in practice they are together called a double loggia.
The area surrounded by this wraparound loggia, the courtyard, is also called a peristyle, which in Greek simply means "surrounded by columns". We will talk more about it later.
In the buildings below a loggia is shown as a sort of indented porch. It creates an open air room within the envelope of the buildings outer walls.
In a sense a loggia is an indented porch. It creates an open air room within the confines of the buildings outer walls.
This can also be the case where the loggia does not actually open up to the outside, but to a large open area, such as a great hall or an atrium.
But an alternative definition is also used that says that a loggia is the space or room defined by a colonnade or arcade. This somewhat looser definition means that a colonnaded walkway, which we learned is also called a colonnade, can also be called a loggia.
This creates far too much overlap and ambiguity in my mind, but a lot of knowledgeable people use it this way.
Portico
A portico is a type of porch. It differs from a loggia in that it extends out from a building (according to the more restrictive definition I gave above).
In a Greek temple a portico is the open porch that fronts a prostyle temple. This type of temple only has columns in front, rather than surrounding it.
The term "portico" carries over to other types of buildings to mean an entry porch, even a very small one.
As seems to be the theme with this page, we have some overlap here. When a building has a Greek temple porch fronting the building, the whole porch is called a prostyle.  You could thus call this porch either a portico or a prostyle and be correct.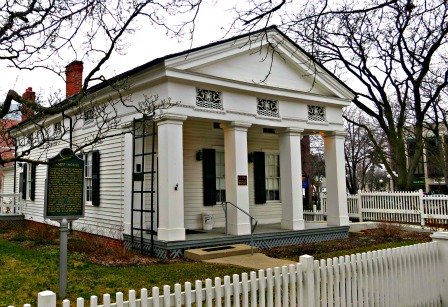 A Greek Revival home fashioned after a prostyle temple.
I have seen it stated that a loggia only has access from inside a building where a portico is accessed from outside the building. This is not correct. Andreo Palladio, the architect, designed several homes, now famous, where the entrance was through a prominent loggia.
The difference between a loggia and a portico is not how they are accessed but how they stand in relation to the main structure of the building.
Peristyle
There is another type of Greek temple.  This is the kind where the central walled structure is surrounded by columns. It bears the name peristyle. The term applies to anything surrounded by columns, but in the case of the open courtyard the name took on a life of its own.  
The central courtyard, usually with a fountain, was common in many houses in the Mediterranean. While these courtyards often had colonnades surrounding the courtyard, it was sometimes the case where the colonnades were only present on two or three sides, yet the term peristyle came to mean the open courtyard inside a house, even where columns were not present.
| | |
| --- | --- |
| | |
| This courtyard is a peristyle... | This is a peristyle temple.. |
---
To Top of Page - Colonnade and Arcade
To Loggia
Home - House Design
---
Like Me! Tweet Me! Comment! Tell your Story!
Please!