Concealing: The Hidden Garage
Concealing a garage is not easy. A hidden garage is probably your most expensive option. It requires the most skill. It is probably the most sophisticated and, architecturally speaking, it is the most dishonest.
There are those who believe that a building should present honestly its purpose. A garage should look like a garage. I admire this ideal, but will counter that a garage should not look like it is trying to take over the house and the yard as well. A garage that looks like a garage is best left tucked away where it will not scare the guests.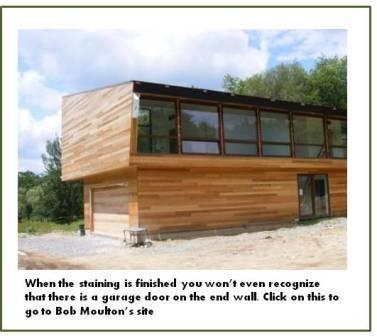 You are not concealing the presence of a building. The garage will not suddenly look like a bush. Instead you are suggesting that what you are looking at is not a garage door, but instead a brick wall. Depending on the situation you may be suggesting that the door is around to the side. In other situations you are indicating that what you are looking at is not a garage at all, but merely a part of the house, perhaps the living room or a den.
I spent several years of my early life living in a house where the garage had been converted into a family room. This maybe what you are striving for, a look that says "Oh, this used to be a garage, but now it is so much better".




The hidden garage example I present with the attached pic is an extreme one. In San Francisco parking is hard to find, so when they were doing a major renovation project, including serious foundation work, they arranged to support the house in a way where they could replace the ground floor support posts.
This gave them room for a garage, but the city wasn't going to put up with something that altered the historic character of the house. The result was a garage door that looks like a bay window.
Of course you could look at this as a reverse deception. You aren't deceiving the people on the street. You are deceiving the car into thinking it is parking in a living room.


---
Addendum
(Editor's Note)
Check out this amazing camouflage from one of our readers. Joe sent this great video showing how his house transforms into a hangar with the click of a remote.
Click on the photo. The porch opens up into a large garage space.
Hidden Garage - Return to the Top of This Page
Return to New Garage Doors
Return to House Structure
Home
What is your garage story, idea, complaint, or advice?
Do you any suggestions for solving the garage problem? How about some pictures of a great garage redo? Maybe you have a garage atrocity to report?
What Other Visitors Have Said
Click below to see contributions from other visitors to this page...

My garage camoflage. Not rated yet
I guess if a picture is worth a thousand words a video is worth more. https://www.youtube.com/watch?v=uaBQ4IR79dw (Editor's note: I have seen …