Log Home Plans: A Primer Before You Build
Good log home plans, skilled log home craftsmen and reputable distributors of milled logs are plentiful but finding them is a critical part of building a log home. Find them and you will create a home of enduring value, filled with warmth; cozy, yet beautiful.
The log home of today has come a long way from the log cabin of the early American frontier. Yet its roots remain vernacular. Log homes were built long before architects put their hand to the task of improving housing.
In its spirit it is an alternative house, a step away from the standard housing of the day. Yet it has become mainstream, has its own industry, and hardly creates a stir when presented to county engineers or commercial loan officers.
I am going to take a look at some of the different things to consider when building a log home, but you may also want to look at my other articles related to log home plans:
If you want a log home you can still do it the old way, felling the lumber and building it yourself, or hiring someone to craft it the old way, but about 3/4's of log homes are now built with milled logs. This article focuses on milled log homes, but much of what I write applies just as well to handcrafted log homes.
Log home plans are not of much value without quality milled logs. Several things happen in the milling process. One, the logs are cut to length. Two, they are milled on the top and on the bottom, to form some variation of the tongue and groove, so that stacked logs interlock. Three, the logs are notched at the points where they will be intersecting other logs. Four, if desired, the sides can be milled, either to produce a flat surface, as is common with interior walls, or to produce a uniform curvature. Some logs may also have channels cut to accommodate plumbing and wiring.
This is all a simplification. There are 55 manufacturers that are members of the Log Home Council, and this just represents the industry in the U.S. Each has their own way of doing things. Each has its own unique take on the log home, with their own special log home plans
Here are a few items you will need to consider as you go about develop your log home plans:
This handcrafted home uses logs that average about 16" across.
The size of the logs
The log species
How the logs have been cut
How the logs have been dried
The profile of the log
The log-building system.
These choices will limit your choices of log supplier. There isn't really a right and a wrong to any of these choices. It depends on your tastes, and your budget. Some have advantages, but the advantages usually come with some costs. If you are filthy rich, you can do as you please. If you are filthy poor, like me, you will find that you have to trade off some of your preferences in order to afford other of your preferences.
Let us discuss some of these options. 

Log Home Plans: The Size of the Log
Size is easy to understand. Big logs usually look nicer, more like the old-fashioned log cabin of the frontier days. They also are thicker and thus offer more insulation. They are also more expensive and harder to set in position, adding to the costs.
The log home plans that you use may be adjusted based on the size of logs you choose. Plans suitable for 8 inch logs will require some changes if you decide to build with 14 inch logs. If you get your plans from your log provider they will be able to supply plans specific to the log size you choose.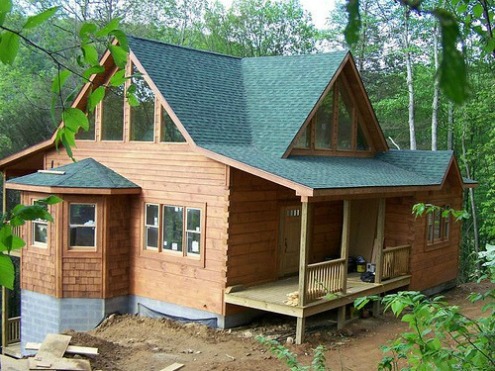 This modern version of the log cabin has square-milled logs. Each level looks to be about 12 inches, which means they started out as logs over 16 inches across. The squared profile looks less rustic, but gives a neater appearance, and the flat top and bottom eliminates the need for traditional chinking.
Log Home Plans: The Species of Wood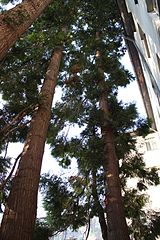 The logs species is more difficult. Most people don't know much about wood. This will likely be new ground for you. The big advantage that Northern White Cedar offers is longevity as it is highly resistant to rot. West Coast Douglas Fir is known for having a straighter grain, with fewer knots and thus is more consistently strong. Western Red Cedar has the advantages of a cedar scent, and a reddish hue. Hemlock has an uneven grain structure that adds a pleasant aesthetic to the home. Each species has its own unique characteristics.
To get a complete picture you would need to consider cost, hardness, density, workability, appearance, decay and insect resistance, stability (resistance to warping, cracking, shrinking and twisting), thermal performance and ability to accept a stain. Since that is a lot to chew on consider:
A tree does best in an environment it is used to. If you are building in a humid environment pick a species that also grows in a humid environment.
A reputable company will choose wood that works well with their log home plans and will guide you in your choice. If they aren't reputable then you shouldn't do business with them.
Log Home Plans: Cutting Practices
How the logs have been cut. Some trees are harvested green. They are cut down while still alive. Others are harvested dead. That is they died in the woods and then where harvested.
While this sounds like a more environmentally friendly wood the problem is that these "Dead Standing" trees have started to twist and crack, a process that can adversely affect your house. These cracks are a means of entry for insects.
The majority of log homes in the United States come from dead standing trees, but this might start to change, as there is less dead standing wood available than in the past. However, don't imagine that building with trees harvested green will threaten old-growth forests. Almost all lumber originating in the United States comes from managed secondary growth forests.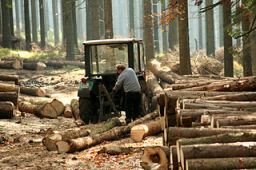 There is a third option to consider,if you want the round log look. Cant wood is the rounded part of logs that has been cut off by mills as they create dimensional lumbers (as in 2x4s). This rounded part can be bonded to milled lumber to create a pseudo log.
You end up with something that looks like a log home, but isn't. The problem is that you end up with wood that is not centered about the heartwood. It will want to twist and crack, turning good log home plans into a problem home. It is cheaper, so for some budgets it may be the best you can get, but understand what you are trading. The house will have additional problems that may affect its value.
However, having just said that about cant wood, let me talk about laminated wood as a substitute for logs. Some manufactures will create a composite substitute for a log that is made up of multiple sections of lumber bonded together. If they are careful about how they select the wood that they are bonding together, they can create a log that is superior to its natural cousin, at least in terms of material for a house.
All logs will tend to crack, but any cracks forming in the individual sections of wood will be limited to that section. It becomes almost impossible for a crack to penetrate all the way through the log. Plus, the mill can better control the moisture content of thinner sections, so there is less likely to be a moisture problem.
Log Home Plans: Drying Method
How the wood is dried is another consideration. You have two basic options: kiln dried and air dried. Kiln dried means it was placed in a large oven and baked.
I take the position that either can be valid. The real key is how well they control the moisture within the wood.
If a manufacturer is in the Western mountains where it is consistently dry, then air drying should suffice. The problem is that the industry standard way of measuring moisture content is by inserting a pin 1" into the wood. If you have a 10" log that means that about 8" was not measured and it can vary significantly from the 19% that the industry shoots for as the maximum. The industry also averages the moisture content, so a log might be well below 19% at one end and well above at the other.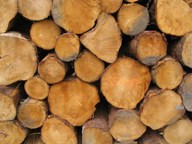 Here is what happens if the wood isn't dry all the way through. The wood will continue to dry while it is part of your house. As the moisture comes out the wood will shrink, and every few years you will need to spend thousands of dollars to re-chink your house. Do this a few times and you won't love your house quite as much as you had envisioned.
The best way to ensure consistent drying is to cut into the logs and allow dry air to circulate into the heartwood. This cut is made where the top or bottom of the log will be, so it won't be visible when your house is built. This same cut will give them access to the interior of the log so that the mill can measure the moisture content right at the center of the tree.
Most manufacturers will not do this. I am not quite willing to say that you must avoid those that don't, but dig deeper with companies that don't. Check with people who own some of their homes and find out if they have experienced shrinkage problems. Make the manufacturer prove that it is not a problem.
Log Home Plans: The Profile
Now consider your profile options. Other aspects of log home plans have a greater impact on the structural integrity of the house, but the profile will affect its aesthetics.
Logs stand ready for construction. Note the round notches, round milling on the bottom, and the kerf cut in the top to aid in drying
Your basic, primitive log home has round logs. Nothing is flattened. You end up with very little wood where they meet, so the chinking does all the insulating in this area. Even the settlers often used an adze to cut off a top and a bottom to the log, so that the log would have several inches where they would join. It meant that there was less to chink and more insulation. When we started milling logs we also started creating a tongue in the top of the log and a groove in the bottom, which added to the stability and provided less chance for an air path to allow in cold breezes.
On the sides even some primitive cabins had squared sides. Now, with milled wood, we can have flat interior surfaces, and we can also have the outside milled to resemble clapboard siding. Most will want the exterior to be rounded, but squared off interior walls are common. This is known as a "D" profile log. It is squared top, bottom and interior and rounded on the outside.
In some cases, especially where cant wood is used, you end up with something resembling an oval. Not only are they cheap with the wood, but they save even more by making the wood abnormally thin as compared to the curvature of the surface.
Related to the profile of the log is the finish. Some wood homes are manufactured with wood that has the curvature milled to shape. You end up with a perfectly round log, but you mill across the growth rings. In some cases you aren't really building with logs at all, but with dimensional lumber that is rounded on one side. See the comments about cant wood. The same problems apply. By comparison some wood is left natural on the exterior surface.
Some manufacturers even offer a rough hewn look for any exposed flat surfaces. It is milled, but it will look like it was hewn by hand. This can be especially stunning when you opt for squared off walls.
Log Home Plan: The System
Finally consider the building system. What do I mean by that? The system is the total package and how it fits together.
An example of butted logs with a round profile. They do not overlap. These logs were not milled at all.
How are the logs joined at the corners? How are windows installed? How is the roof supported? How do they integrate plumbing, and wiring and all those non-frontiersmen niceties that we insist on using? How is the wood chinked? How is the wood treated? Perhaps the best word to describe this is "engineering". How is the house engineered to work as a house? Each manufacturer has their own way of doing things.
With some log home plans, the logs are butted. That is the logs are not notched. The end of one log butts into the side of the log it is supposed to join. They can do this because the logs that lay atop one another are spiked together. It is a cheaper way to build. It is not as strong a joint, so I do not recommend it, but my principle complaint is aesthetic.
For several millennia the key to properly forming a cabin was to notch the logs. This is a modern shortcut, but the whole idea of a log home is to spurn the modern shortcut and return to what worked so well in the past. So why ruin it with logs that aren't notched?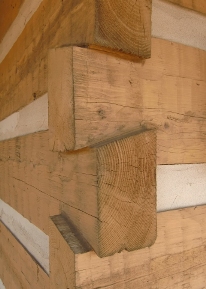 A common notch style where the logs truly lock into place. Note the thick layer of chinking. This was a stylistic choice. It could have been made with almost no chinking.
As for notched logs, there are a variety of notch styles. I will not go into these here. Suffice to say that there are strong opinions. As for me, the mere fact that it is notched is a very good sign.
Many log home plans can accommodate almost any length of log, but some will build their houses with a few limited lengths. They will make longer walls by having short wall sections that join with a very short cross wall. It is generally a visually pleasing effect, as end up with all these vertical divisions that break up the monotony of a long wall. I call it the Lincoln Log system, but there is probably a better name for it.
Some houses will require the homeowner to tighten the house periodically. These houses have long, metal rods that run through the walls. These are screwed down tight during construction, but continued drying and shrinking of the wood can result in the rod no longer being in tension. The homeowner is expected to periodically tighten the nuts on these rods to keep the logs tight together.
This is not a bad system, but if the logs have a moisture content that is too high, excess shrinking will result and it may be difficult for the homeowner to keep up. Yet failing to do so can result in gaps in the walls and can even void your warranty. Such a joining system is not a replacement for properly dried logs.
Some log home plans require that the homeowner sign up for a regular maintenance package. Understand what you are getting into when you sign up for a particular building system.
You will really need to visit their houses to understand the total building system. This will probably be a showroom house, but where possible, visit a real home, with real people living in it, especially if they have lived in it long enough to have discovered the warts.
I have only touch on the surface of this subject. There are hundreds of articles on the internet that can help fill in the gaps, but in the end you will need to deal with real people at the various log home manufacturers or their representatives. Many of these will indeed be experts with a deep knowledge of the subject, but some will only have a surface knowledge. By doing your research ahead of time you may not know all of the answers but you may come equipped to identify who really knows his stuff, and to be able to smell out the bald-faced lies.
Good luck with your log home plans, because a well-built log home is truly a thing of beauty and pleasure.
---
To Building a Handcrafted Log Home - part 1
To Building a Handcrafted Log Cabin - part 2 - The Addition
Return to The Sensuous Log Home 

Home 
---
Like Me! Tweet Me! Comment! Tell your Story!
Please!
Tell us your Log Home story!
We want to hear from you? Have any great Log Home pics? Dream home or nightmare, share with the rest of the world. Here is your chance.