Painting Brick - A Warning
I mention painting brick in several places in my brick articles and in the article on brick sealant. Here is a man who focuses on repairing damaged masonry to tell us why this isn't always a good idea.
That said, look around. There are a whole lot of painted brick buildings well over a hundred years old that are doing just fine.
Read the article below, and then follow it up with my comments where I try to put it in perspective.
Painting Brick - The Hidden Costs You Should Know About
Guest Author Michael Olding
Homeowners often update the appearance of their homes with a coat of fresh paint. However if you are considering painting the 'bricks' on your home then there are a few things you should consider before you break out the spray guns and throw a party!
Permanence
- The most important word to remember about painting brick is: permanence. That's right. It's a one way road. It is permanent and you can't remove it once it has been applied. Now I know that some of you will say that you can get strippers and restoration cleaners to remove the paint if you really need to and that is true.
Remember though, you are entering a very expensive restoration process that is usually limited to very high end or very valuable masonry buildings with large amounts of funding. Practically speaking, restoration cleaning cost would simply be out of the range for all but the most affluent homeowner. (tens of thousands of dollars)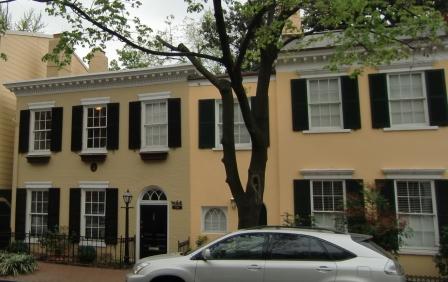 These yellow townhouses suggest that at least some people are rather successful at painting brick.
On-Going Maintenance

- The day you apply the last coat of paint to the bricks on your home, is the first day paint degradation begins. Sooner or later the bricks will have to be painted again.
It has now become a never ending process. You will spend far more in the long run painting your brick over and over again then you would ever have spent in up-grading to brick work on your home in the first place. So a quick fix, like painting bricks you don't particularly like, can often be an expensive mistake. Bricks will need to be re-painted more frequently than the rest of your home as well because of the risk of water entry which can cause severe damage.
Water Damage
- The next point to remember is this: bricks need to breathe. What do I mean by that? Well bricks breathe naturally expelling moisture from the wall. When you coat them with paint you have effectively closed the pores of the bricks preventing them from breathing. In a perfect world this doesn't sound like a bad idea because it effectively keeps the water out as well.
In real world situations though, paint will begin to crack fairly quickly. Minute hairline fissures will open allowing water to enter the masonry system with no way to escape. Unfortunately at this point it is hard for you to recognize or see the effects of the water entry, as it is hidden behind the paint.
As each freeze thaw cycle comes and goes real deterioration of the brick takes place and by the time the problem manifest the damage has already been done. Large portions of the wall area will have 'brick face de-lamination' and many more areas you can't see will have de-lamination but will be held together by the paint. So a close inspection for damage will be necessary.
Now you not only have your ongoing paint maintenance to deal with but deteriorated brick repairs must be done as well.
So you can see how the seemingly simple remedy of painting your bricks to change its color can have far reaching implications and consequences. If you must go this route then I would suggest that you contact a local masonry repair expert for his advice on how to protect your masonry before painting and how to proceed with the painting process.
About the Author
Michael Olding is tradesman and consultant in the field of restorations and repairs and currently operates a restoration and repair business in Cincinnati, Ohio. He is also a Master in the field of masonry construction, restorations and repairs.
In addition he is a writer and speaker as well as a marketing, training and business consultant for the contracting industry. If you interested in his services he may be contacted by visiting www.cincihomepro.com
Article Source: EzineArticles.com/1089119
Editor's Comments
Michael Olding knows what he is talking about. Go to his website and look at the serious repairs he has performed. He knows what it costs when neglected brickwork gets ugly.
That said, look at the houses on his site. None are painted. Water damage happens because structural problems allow too much water to collect where it shouldn't. Usually that has something to do with shifting foundations, or a water drain that funnels water onto a wall instead of onto the ground, or some similar, significant source of water intrusion. Paint may exacerbate the problem, but the problem would be significant even without the paint.
He is correct to say that paint will seal water in. But to every wall there is an inside as well. A brick wall will allow some water to seep inside. A painted wall will have less water seeping inside, unless that water is coming from some significant source that can bypass the paint. Hairline cracks in paint, absent other sources of water intrusion, are not going to cause a moisture problem. What little water that comes in from hairline crack will makes its way to the inside, same as before the paint, but there will be less of it. So, the normal amount of water intrusion that happens after painting brick will have an exit path. It is not inevitably going to try to force its way back out through the paint.
Also remember that most modern brick walls are really brick veneer, with an air gap between the brick and the block or concrete, and weep holes at the bottom. Water coming in will drain out through the weep holes. That is what they are there for.
This is not to entirely discount his advice. It is a permanent change, so it should not be taken lightly, nor should you use a coat of paint to cover up masonry problems. If you already have damage to your bricks consult an expert before taking the step of painting brick.
To Top of this Page - Painting Brick

Check out Brick Sealer

Return to Painting Siding

Return to House Structure

Home


---
Have you ever painted siding? Brick? Stucco? What is your story?
Have you got a great story to tell? Maybe you can save somebody some heartache? Maybe its just a funny story. Please submit your tale for my review.

Thanks!
Thank You
What Other Visitors Have Said
Click below to see contributions from other visitors to this page...

Home Buyer

I'm shopping for a home and painted brick is one of two deal breakers for me. The other is being on a dirt road.
J Franklin

I have a two story house with a wretched hardboard siding and brick combination. The hardboard covers both floors in back and the upper floor on each …