Plaster Mouldings for the Home
by Kerry Carlton
The 5 Key Benefits of Plaster Moulding
Plaster moulding is the perfect interior design material for creating some truly stunning aesthetics.  If you're new to this unique craft, though, you might be unsure as to what benefits it can offer you.  Well, keep reading - this is the article for you!

It is Accurate and Safe
Architectural mouldings of plaster are renowned throughout the interior design industry for their outstanding surface finish with a high degree of dimensional accuracy.   They are also extremely safe, offering both a zero-flame spread rating (as well as being non-combustible) in addition to a complete lack of toxic fumes. This is not the case with some materials within the industry.
It is Cost Effective
Compared to other materials used within design, plaster is very cost-effective.  With high quality woods, for instance, each element must be crafted and finished individually, leading to a high amount of cost in terms of man power.  Plaster, though, doesn't work in the same way.  Because moulds are used to create each element, they can be repeated many times over without a new mould needing to be created.  This can save an awful lot of time, especially on those larger projects.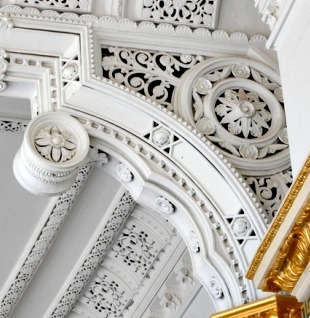 There is Little Waste
With many design materials, it's quite common for there to be a lot of excess waste from shavings, cuttings and the like.   Wood shavings are commonplace on larger projects, as are excess materials in terms of textiles.  However, plaster produces a minimal amount of scrap when compared to the majority of others.  What is more, it's become more and more common for plaster moulding to be reinforced and strengthened over the last few years, so it can be prepared in the supplier's workshop and then transported directly to the site, meaning that any small scraps can be disposed of directly, rather than clogging up the area of the design itself.  Great news for the more environmentally conscious designer!
It is Versatile
Plaster mouldings can be used in a very wide range of designs. Almost every element of an interior can be created using plaster (aside from the furniture and the TV, obviously!), with wall and ceilings, fireplace mantels, cornices and domes all having been re-created using the material at one time or another.  What's more, it can also be used to re-create and emulate classic designs using the original moulds. It is for this reason that it is such a popular material within classic theatres and music venues. With comparative ease, the sculptors can recreate the same feel that the rooms would have had when they first opened (in some cases) a few centuries.
It Does Not Warp
Warping and changing over time is one of the main concerns when dealing with many materials. This is especially true of solid woods, which can distort and change shape quite substantially when exposed to very hot or very cold temperatures. Plaster is immune to the typical warping elements such as a room's humidity as well as its temperature.  Bearing in mind that interior design is usually a serious, long-term investment, this is perhaps the most important reason on the list. The last thing you want is to spend a substantial amount on the perfect furnishings only to have them warp out of shape a year later!
About the Author
Kerry Carlton is an expert plaster restorer who works with plaster moulds every day. When she's not working on DIY-related tasks in her new home, she works for Locker & Riley, the UK's award-winning fibrous plaster specialist.
---
To Top of Page - Plaster Moulding
Home - House Design
---
Like Me! Tweet Me! Comment! Tell your Story!
Please!