Porch and Patio
What They Do and Why They Do It
Porch and Patio is my introduction to a series of articles I am writing on how we relate the inside of our house to what is beyond our walls. Porches, patios and decks are a way of extending our houses to the outside. They also welcome those who are outside, in, acting as a buffer between the two.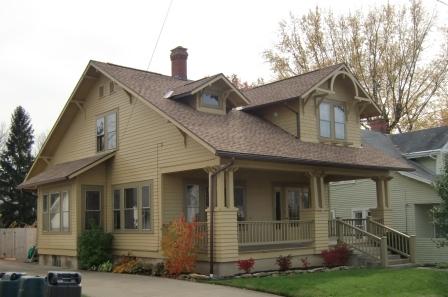 Porches weren't a big deal in colonial New England, but they caught on in the Deep South where shading the house from the sun helped make the summers bearable. Tidewater houses, with their large porches, may have been confined to the South, but on down the generations the rest of the country would follow them.
Porches became more widespread with the Carpenter Gothic houses. Here a porch was almost required. As the Gothic morphed into the Victorian Stick, Shingle and Queen Anne style houses the porch began to take on gigantic proportions. The Craftsman continued the tradition, albeit on a smaller scale. 
Porch and Patio - The Demise of the Front Porch
Perhaps it was air conditioning that doomed the front porch. The Ranch style houses had miniscule porches, although they often had a concrete slab out the back door. A roof wasn't needed, since you now went inside to get cool. Outside was for the pleasant days, not the hot ones.
I have seen many ranch houses, and quite a few of other varieties, that had miniscule porches. If all you have is about 4 feet from the wall to the bushes all you really have is outdoor storage. It is not enough to sit and socialize. That is the way it was in one house I grew up in. The porch looked nice, but it was too narrow, and soon it was a place to keep bicycles.
I am not the only one to recognize this problem. Architect Christopher Alexander, in his A Pattern Language: Towns, Buildings, Construction, when discussing Pattern #167, "The Six-Foot Balcony", says that balconies (and porches) that are less than six feet deep are hardly ever used.
In my grandmother's day people would sit on their front porches and chat with the neighbors. There was more foot traffic and more to watch. People went out just to see who was on the front porch.
We have lost that socializing aspect of the front porch and replaced it with the back deck. Decks are great. If you have a party they are a good place to grill and chat. It is just a different type of socializing. Its people you invite, its not whoever passes by. We have become better entertainers, but with fewer friends.
It is a shame, this dissipation of the front porch, for it served a useful purpose, something very important for any home.  It is what Christopher Alexander calls an "Entrance Transition" (Pattern #112).  In his own words "buildings, and especially houses, with a graceful transition between the street and the inside, are more tranquil than those which open directly off the street". 
A front porch is not the only way of achieving this, but it is one of the more effective ways.
---
Take a minute to check out Dave and Mary's website all about front porches. It is jam-packed with plenty of ideas for front porch designs, porch decorating and front porch ideas. Take a look!
---
Porch and Patio - The Deck vs The Patio
I have mentioned patios and I want to take a minute to compare them to decks. There is something very nice about the elevation of a deck. You can look down on your yard. I don't know why but that gives it an interesting prospect. I think of a patio as usually being at ground level, made of concrete or brick or flagstones. They have a different character.
Each has their place, but let me put in a vote for the patio. Decks are often big stains on the house they adorn. People spend big money creating a beautiful exterior to their house, and then tack on an unpainted wood deck that in no way matches or complements their house. It is like wearing a hunting jacket over your designer suit.
Well done a patio is part of the garden. An appropriate selection of stone or brick will complement the house, but if it doesn't quite work it isn't as big a concern simply because it is less visible. The deck stands out and says "Look at me". The patio just sits quietly until somebody comes and quietly sits.
I made a patio for my first family house twenty years ago. I couldn't afford much, so I bought some very cheap recycled paver bricks and chipped off the old mortar myself. That was the hard part. I dug the patio shape I wanted then laid some cheap nylon cloth down. On top of that I put down some free river sand (again with great personal labor). I raked this flat and started laying bricks. I can't remember the pattern, but with this type of dry masonry you can experiment. I tamped the bricks flat and even. After it was down I filled the cracks with a mixture of dry sand and dry cement. Then I wetted it down with a hose. This type of patio may end up with some grass trying to grow in the cracks, and a brick or two may become loose, but, if you laid it, you can fix it.
I mention this to point out that it doesn't take a lot of money if you are willing to substitute your own labor. Lumber for a deck can be quite costly, as can brand new flagstones, but there are cheaper alternatives. Just be sure to use paver quality bricks as wall bricks won't last. The beauty is this can be a patio design of your own. You don't have to be a great mason or a great carpenter.
In the end, the real measure of the value of porch and patio and deck, is the pleasure we get as we make use of them. Porch and patio design is important to the degree that it makes these spaces inviting and enjoyable.
---
Looking for decking materials?  Considering what type of wood to use?  I have two articles regarding the benefits of various materials.  The first looks at all your decking material options, the second looks at Ipe decking and compares it with all the wood decking available on the market.
---
Porch and Patio - My Front Porch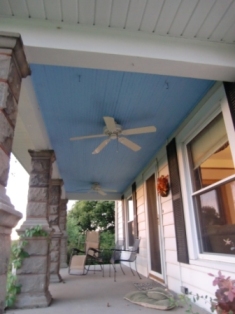 My own front porch desperately needs some attention. The concrete is bare. I keep thinking I will do an acid stain, but for at least ten years that has been an idle fancy.
I did repair the porch roof, and I repainted the ceiling. I painted it blue. It is an old tradition in parts of the South. Mine is probably a bit too bright, but it is cheerful. I also added two ceiling fans. The latter are for those hot days, but also to keep the bugs away. They are definitely not as effective as a screen, but I could not find a way to add a screen without making the porch look a bit odd. As you may have noticed I am a bit particular.
Porch and Patio - The Screened Porch
Now that I have mentioned screened porches and why I haven't installed one let me tell you how great they are. They keep the bugs off and the wife happy. Often we have been driven inside on summer nights. It seems that the pleasant summer evenings are also pleasant to mosquitoes. I do not know what the mosquitoes do during the daylight hours but I know what they do at dusk. They dine out.
If you are building anew, it is important to consider your screening options when considering your porch and patio design.
I have lived in two houses with screened in porches. In Kansas, when I was eight, we sometimes slept outside in our wrap-around porch. In Virginia we had a screened porch as an extension of the house. It sat at the threshold of the green front yard and the wooded back yard. It was large enough to dine in, and we often did. I have enjoyed many a book on that porch. I think the fresh air adds to the pleasures of reading.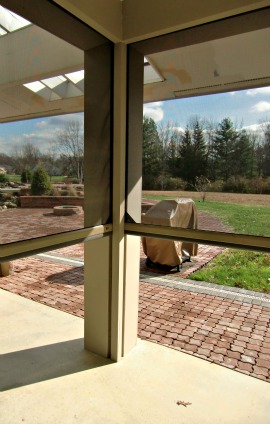 One way of overcoming the negative aspects of a screened porch while still enjoying the benefits is to install a retracting screen porch.  I came across a great example when I was touring Rosemarie Rossetti'shandicap accessible home.  She has an remotely controlled set of descending screens built into her rear patio.
Now that I have confessed my love for a screened porch and my own fussiness with the architecture of my house, let me tell you how I resolved my conflict. I put up a gazebo. Okay, not a permanent one. A screened, canvas gazebo I bought at Lowes, on sale. It sat in the shade of four trees. It was a good solution, but the winds came and I discovered why it was considered a temporary gazebo. It managed to last three years. Now I have a dilemma again. Do I replace it with another temporary solution, or do I go permanent?
We shall see.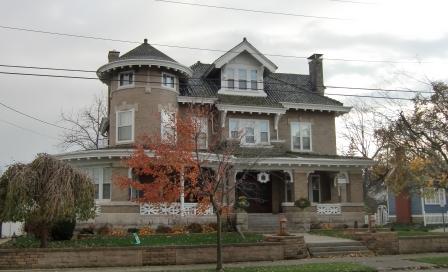 ---
Porch and Patio - Return to Top of This Page 

Forward to Decking Choices 

Forward to Deck Wood Comparison 

Return to House Structure 

Home - House Design 
---
Like Me! Tweet Me! Comment! Tell your Story!
Please!