Art Deco Home Design
An Art Deco home is usually much simpler in its form and facade than Art Deco commercial or governmental building.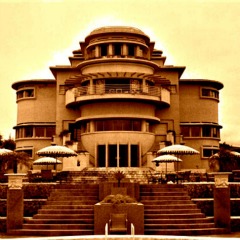 While a few Art Deco homes of the mansion or palace variety were complex amalgamation of shapes, most Art Deco houses are noted for their clean, simple lines.
My interest in Art Deco comes from having resided in Tulsa, Oklahoma. The town is noted for having some fine examples of Art Deco buildings. I also happened to be a runner, and my runs often took me past a couple of interesting houses that I learned where also in the style of Art Deco. This increased my interest, because the houses really looked nothing like the buildings with which I was familiar.
So, twenty years later, to prepare for this article, I took the occasion of a visit to my parents to attempt to photograph every Art Deco home I could find in Tulsa. I looked them up on the internet (there happens to be a fine Art Deco society operating in Tulsa which had assembled a list). Imagine my surprise when I could only find eight houses listed as Art Deco homes.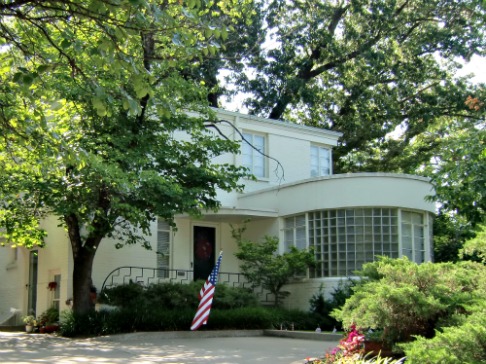 Here is a great Art Deco home. A curved, flat-roofed bumpout with glass block walls give this one a little something special. Note the zig-zag pattern on the railing. Also check out the window that wraps around the corner on the upper right. This is one of my favorite homes.
Mostly this was a matter of timing. Art Deco architecture may have kicked off with the 1925 exposition of "La Société des Artistes Décorateurs" but it took a few years for ideas to result in completed construction, and about the time that Art Deco architecture was hitting its stride the Great Depression hit.
This same phenomenon means that the style never resulted in vast tracts of Art Deco homes. By the time the economy was moving again new styles had come along.
Unfortunately even the few houses that were built have sometimes met their end. While not as hard hit as the commercial buildings (of which half have been demolished) several have been razed to make way for city improvements.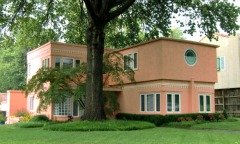 What I present here are photos from my own discovery tour of Tulsa, and pictures I have discovered on the internet.
Art Deco favored bold, geometric shapes. As this was translated into housing this usually meant solid walls, usually covered in stucco, or sometimes bare concrete. The architects avoided siding, as this would break up the geometric forms of the wall shapes.
Related to this was the absence of roofs. They had them, but the were flat, or low pitched and hidden. This kept the focus on the shape of the walls, and whatever other forms the detailing would present.
At its simplest this might just be a box of a house, but often times the corners were rounded. Rounded corners were present from fairly early, but became more common as we moved into the Streamline Modern phase.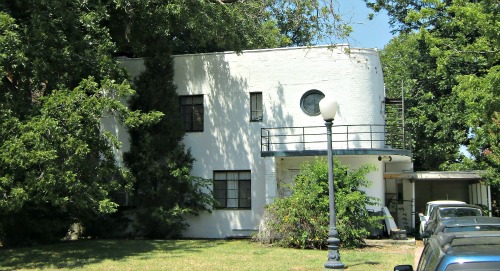 A couple of new technologies were showcased in some Art Deco homes. Concrete block was new and exciting. It was cheaper to use than brick, and it presented a larger face. Today we would cover it with stucco or something else. Back in the 1920's and 30's it had not yet become synonymous with cheap and incomplete, so many architects experimented with leaving the block in its natural state.
Another innovation was glass block. Architects liked its bold look and the interesting possibilities it opened up with lighting. However it was too new to fit in well with houses of a traditional nature. With Art Deco there were no such constraints, so you find many an Art Deco home with a glass block wall, or section of wall.
In a typical Art Deco home the ornamentation and decoration was minimal. Where it was employed it tended to favor graphical stylings with strong geometric forms. Furnishings and all the interior decor took advantage of the numerous products coming out in the Art Deco style.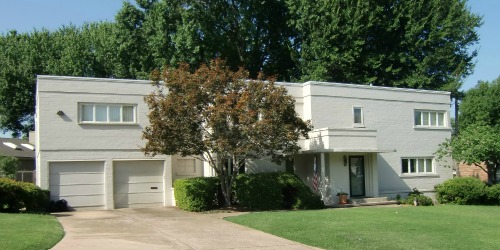 The above home is located at 1718 E. 37th Street, in Tulsa, OK. It is a little hard to tell, but the house is painted cinderblock, with brick trim. Note the use of glass block to frame a bay window. The block is formed into a curved wall. With the exception of the porch light there is no significant detailing on the facade.
There is a horizontal band at the top, but otherwise it is a very flat, monolithic structure. It was designed by Leo Clark for Arnold Ungerman, who wanted a house evocative of the adobe homes of the Southwest.
---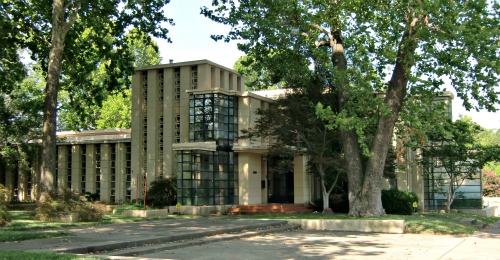 Built in 1929 Richard Lloyd Jones commissioned this from his cousin Frank Lloyd Wright. It is called "Westhope".
There are 10,000 square feet here. Part of the secret of its size is that colonnade heading off to the right. It turns and joins another branch of the house and together they enclose a courtyard. It had air conditioning in 1929, so it was both technologically and aesthetically advanced.
While it probably deserves to be called Art Deco, Wright is not so easily pigeon-holed. Whatever you call it, it is a neat house. I used to run past this house and enjoyed it long before I knew it was designed by FLW.
---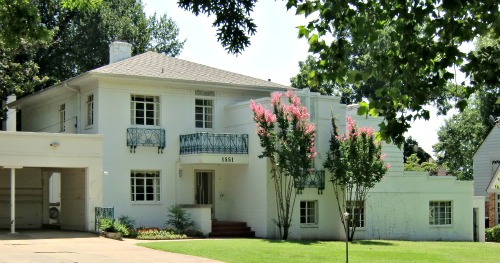 This house was designed by Joseph R. Koberling. It was built in 1936 for J.B. McGay, the guy who invented the tubeless tire and the parking meter.

This house has a regular roof on the main section, but the appendages are flat roofed. It has large decorative plaques adorning the house in two places.
---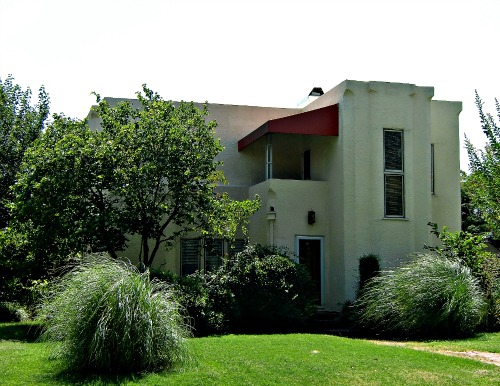 There is more here than meets the eye. The trees cover a lot, and the house is noted for many interior features that were well ahead of their time.
This house was designed by Bruce Goff, a student of Frank Lloyd Wright, for Adah Robinson, in 1927. She was an artist and teacher whose student designed Boston Avenue Methodist, a daring Art Deco Cathedral. She is given credit for a lot of the interior design of that building, so it is likely that she provided a lot of input.
---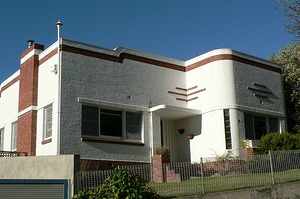 This is from Hobart, Australia, from the prolific camera of David Thompson. Click on the photo to see his ever-growing collection of Art Deco buildings
The three-line design makes this house. It would still be interesting without it, but it gives it personality and keeps all that white space above the window from seeming too big and empty.
---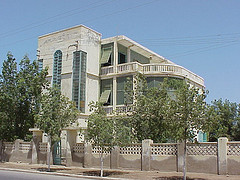 I probably would not have gone to Eritrea just to photograph this Art Deco home. This is another great picture from David Thompson.
The Italians rolled into Eritrea, and took it over at a point in time when Art Deco was starting to bloom. Thus the Art Deco in a place many people can't find on a map.
---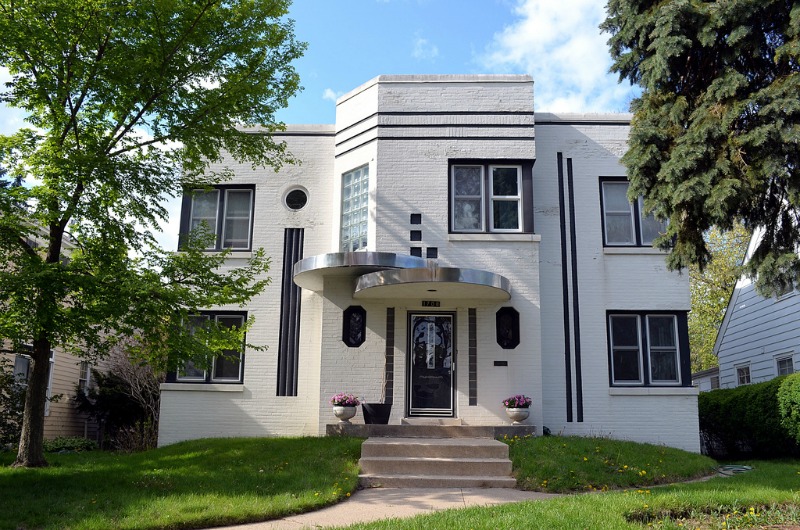 This picture of the John Stott home in Wilmette, Illinois, comes to us courtesy of Chicagogeek at Flickr.
---
Top of this page - Art Deco Home
To Art Deco Style - A look at the style in general
To Art Deco Gargoyles and Guardians - An interesting collection of statues
To Art Deco and Archaeology - The archaeological influences on Art Deco
To Art Deco Classical - Art Deco and Classical come together
To Art Deco Architectue - How Art Deco translates into structures
To House Styles - the Parent index page for all house style articles
Like Me! Tweet Me! Comment! Tell your Story!
Please!
Have A Great Story About This Topic?
Do you have a great story about this? Photos of great houses? Maybe you can add to our body of knowledge about this subject, or maybe you just have questions. Either way feel free to participate in our conversation.
What Other Visitors Have Said
Click below to see contributions from other visitors to this page...

Monte D'este Not rated yet
Your photo of the ART DECO house in Hobart interests me! I live in the house and have made major alterations to this house without destroying the ART …