Garrison House
A garrison house is an adaptation of a two-story fortified block house sometimes used in the colonial era on the frontier.  It is a wood version of a timber frame home similar to those built in the Elizabethan era.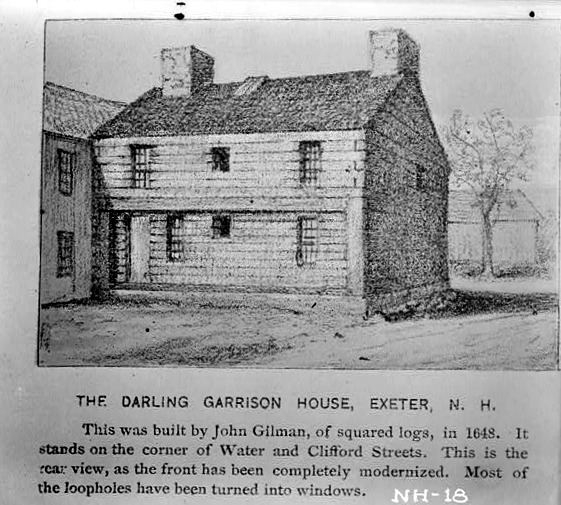 This early Garrison, fortified house is a little unusual in that the overhang was usually cantilevered, while this has supports on the corner.
In a true Garrison house, built for defensive purposes, the walls would be logs or thick planks.  The second story jettied out over the first floor, sometimes on all four sides, usually at least on two.  When the same basic look was used where there was no concern for its military use, the form was often simplified to have a jetty only on the front.
The McIntire Garrison home in York, Maine, is one of the few original Garrison block houses to survive.
There is some debate as to whether these homes in settled areas really borrowed from the block houses.  This type of overhang had a long history in Europe.  Whatever the origin, the Garrison name stuck.
Theses houses were timber-frame houses, and in general this style died out when 2x4 framing came along.  However, the Colonial Revival came along in the early 20th century, and by the 1930's many houses were being built in the Garrison Revival style.  
As was true with the original style, carved pendants often hung down from the jetty.  The house was always rectangular and symmetrical.
The Ranch and other modern styles edged it out by the 1950's, but the Garrison overhang was resurrected in various other styles of homes up until the present day.
One of my ancestors, John George Overmyer, had a stout house that became known as Overmyer Fort, and which saw action on at least one occasion.  No pictures remain of this home, but it seems likely that it was a Garrison design.
In its colonial form it was more of a vernacular home, and tending towards the plain and simple.  In its Revival form it is often often dressed out with Georgian style entryways and made to look rather formal.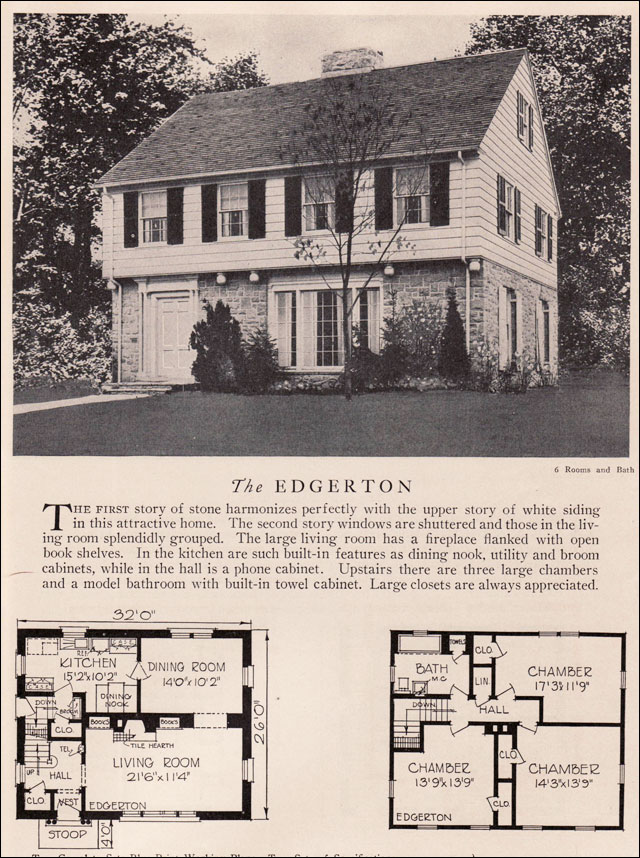 This ad from 1929 shows a Garrison colonial revival home.  This basic style would soon become very popular.
| | |
| --- | --- |
| While not a Garrison style house, this split-level home with a jettied second floor shows the lingering influence of the Garrison style. | |
---
To Top of Page - Garrison House
To House Styles
---
Like Me! Tweet Me! Comment! Tell your Story!
Please!