Your Roof Design
Design - The Chinese Roof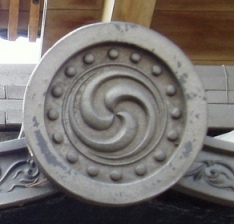 In Japan I had many opportunities to witness the Chinese style of roof design. Its use was common in old-style houses, but it was especially common on Buddhist Temples. It is a roof they borrowed from China and it is still used in both places today. I do not consider it the ideal roof, but I do consider it a classic example of roof design as an element of style. In most buildings where it is used it is the dominant architectural element, dwarfing everything else.
It is large. It projects out well beyond the footprint of the building. Sometime the temple buildings give the impression of a very short man wearing a very tall, wide-brimmed hat. It is also curved. The roof does not form a plane, rather it is concave. The tiles are steep near the ridge, but flatten out as the near edge. In some cases they even start climbing up at the corners. The roof is nearly always covered in dark half-pipe tiles, usually blue, and these are usually are capped off on the ends with round seals bearing the insignia of the local ruling lord. Structurally, to make this curved surface requires a lot of support. Between the support structures, the tiles, and the immensity of the roof, these roofs are very heavy and very expensive.
These roofs are often beautiful, but overdone and sometimes unbalanced. They overwhelm the building below them. They reverse the natural order. You do not see a building with a roof protecting it, you see a roof with a building supporting it. As an object lesson in roof design they have this going for them. When you see a Chinese roof you have seen the ultimate in roofiness. It gets no roofier than this.
The Roof Back Home
Closer to home roofs are less dominating, but by virtue of the fact that they cover our houses they are still going to be a significant architectural design element. Even flat roofs are significant, if only be their absence.
One of the ways we can describe a roof is by its shape. If it is two rectangles meeting at a ridge this is a gabled roof. If instead of two rectangles you have two parallelograms forming a ridge and two triangle shaped portions of roof joining the two parallelograms you have a hipped roof. This explanation is getting complicated so I will just refer you to the roofs page in my architectural dictionary.
Since you might have several sections of a house joining together you might have variations and combinations of the above. For instance my roof is a pyramid hip roof with the top cut off and a flat roof in its place, and to the side I have a hipped roof butting into the second story. I could consider the main roof a mansard roof but usually I think of a mansard roof acting as walls for the house for part or all of the top story.
...
This article continues on another page. Press Here to continue.
---
Roof Design - Return to Top

To Elements of a Roof - Continuation of This Page

To Roof Repair - The Story of My Roof Repair

Return to House Structure

Go to Roof Shapes under Terms section
---
Like Me! Tweet Me! Comment! Tell your Story!
Please!