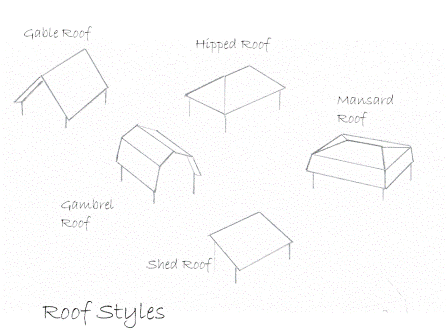 Roof Shapes
Roof shape affects a house functionally and aesthetically. Here are the basic roof shapes used in the Western world. These shapes are often combined in complex roofs.
The simplest roof is the shed roof, known as a skillion roof in some places. It is just one plane.
The gable roof is a little more complicated. It is essentially two shed roofs meeting back-to-back. It has two roof surfaces meeting on a ridge.
The gambrel roof is like gable, but a second line of roof is married to the top tier of roofing. This is your traditional barn-shaped roof.
The hipped roof has four roof surfaces that either meet in a point, like a pyramid, or have a ridge joining two of the surfaces. In some cases, like my roof, there is a small flat roof on top, instead of coming to a point.
The Mansard is like a gambrelled hipped roof.
The gambrel roof and mansard roof offer more headroom under roof, so the lower part of the roof is often at the same level as living space. This will be obvious if dormer windows penetrate the lower roof.


Roof shape is often a critical element of house style. For instance a Gothic Revival house will generally consist of multiple, steeply gabled roofs.
A Greek Revival style house will usually have one or two gable roofs with the pitch of the roof corresponding to classical Greek proportions.
The primary distinguishing feature of a Second Empire house is a mansard roof.
Dormer windows also have roofs. The style of dormer roof will also affect the appearance. It my part of Ohio there are a lot of Craftsman Bungalows with a simple shed roof over a second-story dormer. Often the dormer roof covers multiple windows, adding a significant amount of headroom and living space. It has a very informal, relaxed look, which blends well with the rest of the Arts and Crafts styling.
While the slope of the roof does not directly affect the roof style, a low pitched roof on a two or three-story house will not be very visible from the front, possibly giving the appearance of a flat roof. If the likely vantage point for viewing the house is from a lower elevation it may be appropriate to use a more steeply sloped roof, so at to make it more visible.

Roof Shapes Top of Page

Return to Dictionary

go to Roof Design of House Structures section

Home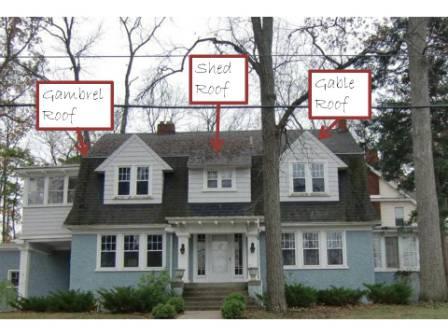 Can you add to our definitions? Can you suggest a term we need to add?
Help make this dictionary better! Add to our store of knowledge. Add pictures. Suggest words.