Aluminum Siding
Yesterday and Today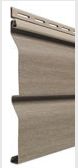 Aluminum siding's profile differs little from the profile of vinyl siding
Aluminum siding was all the rage back in the 1960's. It was the superior product. Then vinyl siding came along and aluminum lost much of its market.
I doubt either aluminum or tin siding will ever regain its place as the leading cladding, but I think there is a place in the market for these products.
The original siding was smooth, lacking texture. The paint used, while durable, was prone to chalking, giving a faded appearance to the color down the road.
Today you can buy aluminum lap siding with an imprinted texture, and with a vinyl or plastic coating. The paint won't chalk, and, barring damage, really will keep its good looks for decades.
Pros and Cons
Aluminum trim around windows and corners won't show rich detail. It is easy to mold plastic into any shape you want, but aluminum is bent and cut and stamped and it isn't as easily formed into unusual shapes and sharp corners. For most houses this is not a great concern, but for some it is a big concern.
Aluminum won't crack, but it is easily dented. A good hailstorm can damage the siding. It can also make a racket when the wind is beating hard against the aluminum.
It handles cold well. It handles cold just as well as it handles heat. In Northern winters vinyl siding will sometimes crack under minor impacts. Not aluminum.
It is metal, though. It conducts heat. In the summer it can be hot to the touch if painted a dark color. And in the winter, it sucks the heat from the house. This isn't a big concern, as it should have plenty of insulation between it and the inside of the house, but it will decrease your energy efficiency slightly.
It won't go up in flames. It provides some protection for the structure against any flames coming from outside the house. It won't give off poisonous fumes if the house does burn.
Siding your house in aluminum can be a do-it-yourself project, but a more difficult one than siding with vinyl. It is harder to cut and less forgiving of mistakes. Once bent its not easily straightened.
Considering Aluminum Siding? You might also take a look at
Steel Siding.
My Opinion: For What it is Worth
Here is my take on metal siding. The competitor products will always do the wood look better.
I would go with aluminum siding if I wanted an industrial aesthetic. Avoid the lap siding all together and go for one of the profiles used with metal buildings, or your plain corrugated siding. You could even look at the roofing products available and use them as siding, and then you have the option of stone coatings.
Would I use these? I can't say that the industrial look is my thing, but if I was going for a modern look I would definitely consider this as an option.
The vertical siding on this house gives it an industrial aesthetic. It is not attempting to be wood. It is being aluminum.
---
To Top of Page - Aluminum Siding
To Brick Veneer Siding

Return to House Siding

Return to House Structure

Home -House Design
---
Like Me! Tweet Me! Comment! Tell your Story!
Please!