Big Garages With Their Ugly Garage Doors
#2 of 10 Home Design Mistakes

Next
The bane of suburban man. The car has made the suburban home possible. The garage has made it ugly. We build beautiful houses and then hide them behind large garages with ugly garage doors that dominate the view from the street.
I have plenty to say on this subject in a series of articles on how to overcome the garage door problem.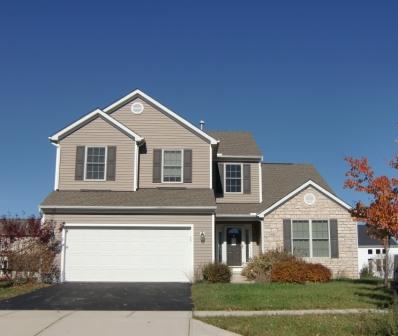 The best you can say is "There are worse". Sad. Very Sad.
Let me summarize my thoughts here. A house is where we live. A garage is where we store something. The living should be what we present to the world. The storage thing should be subsumed, hidden from view if possible, but always minimized.
Too often, because of lot constraints and the need to house two cars, houses have a large garage at eye level, and hidden behind the garage somewhere a part of the house peaks out. Perhaps in some situations this is unavoidable, but too often it is avoidable and still built, ugly side out. We have simply come to accept it as normal. We buy houses that have this fault when the builder could have put the garage off to the side. Until we make these houses unpopular they will continue to be built and we will continue to live in neighborhood of garages rather than neighborhoods of homes.
Okay, so what can you do if you have this problem? Sell. No. That doesn't really solve anything. Read my helpful advice on how to dress it up, fakeit, hide it or obscure it.
Sometimes all you have to do is make it look better than your neighbor's house. Okay, that doesn't really solve the problem either, but the solutions suggested in my articles should at least make the garage doors look a lot better.
---
To Top of This Page - Ugly Garage Doors
---
Like Me! Tweet Me! Comment! Tell your Story!
Please!
What are Your Top 10?
Tell us what makes your top 10 list, or tell us about one of the ones we posted. Maybe you have examples. I would love to add more pics to my articles.
What Other Visitors Have Said
Click below to see contributions from other visitors to this page...
What about this pseudo garage doors or wall

http://archdoc.mr926.com/social-green-house-darkitectura-2/29180/ I like that house, the look of it, to small, but seems nice. Editor's Response: …
Garage doors as main focus Not rated yet
I totally agree that the wide, sometimes contrasting color, garage doors on modern houses are an eyesore. What happened to the driveway that entered …