Federal House Architecture
Where it Began
Federal houses were a reflection of architectural changes taking place in Great Britain in the early years of our republic. One man, Robert Adam, drove that change. There were four Adam brothers, all architects, but Robert was the innovator. They had the good sense to design in his style, greatly increasing the footprint one man could leave. Before starting his practice Robert took the grand tour, studying architecture in France, Italy and Greece. He had the good fortune to do this at a time when Pompeii and Herculaneum were being excavated and houses in their original form were available for inspection.
Robert's evaluation of ancient architecture led him to the conclusion that the Georgian revival of classical architecture had taken a wrong turn. He began his practice in 1758, and by 1773 was able to publish The Works in Architecture of Robert and James Adam
. A second volume was published in 1779. The timing was propitious. His new style emphasized Greek and Roman decorative element, and the new republic was ready for anything that spoke of democracy or republicanism.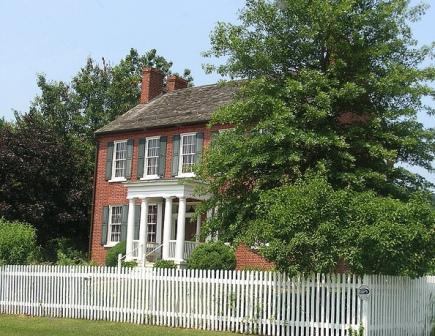 Jonathon Nesbitt home built in 1831 in Clear Spring, Md. With a house this simple the main clues are the front entryway and the shutters. Most the clues are on the inside and the year it was built.
The Federal House - A More Classical Classicism

You might remember in my article on Georgian style houses I made mention that the simplicity of Gunston Hall's exterior belied the ornate décor within. Much of that décor was rococo, which is a term that could roughly be translated as shell inspired. Rococo artists loved shells and anything sinuous or curvy. They made beautiful furniture and carvings but it tended to go over the top. It was also a European development, and nothing like what would have actually been found in a villa of antiquity. Europe had taken classical design and made it their own, adding their own designs on top of a classically inspired form.
There is nothing wrong with this. Adapting something to current tastes is a human trait. The Romans did the same thing. There is also a counterbalancing tendency to revere and honor the past, and to want to return to it. Not surprisingly what they often tried to return to was ancient Rome. Most of the educated class understood Latin, and the Renaissance was founded upon a rediscovering of ancient learning.
Adam's reforms were simply in-line with this tendency to honor and perhaps idolize the past. Adam reintroduced the motifs and decorations he found in the rooms of the past. While he made changes on the outside, and the natural progression of events led to changes in the external form, much of what distinguishes a Federal house from Georgian lies within.
Characteristic of a Federal House as Compared to a Georgian House
Federal house plans look a lot like their Georgian predecessors except for a tendency to have a room or two that was oval, or rounded to some degree, and a staircase that was prominently displayed. Arches leading to prominent room or in a grand entryway were sometimes employed to convey a Roman feel. Since few interiors were masonry, this was strictly for show.
The doorway was likely to have sidelights and fanlight above. A projecting roof supported by columns, not unheard of in Georgian homes, became more popular. In some cases there was an elliptical window in the pediment.
The windows did not differ much from the Georgian style except that Palladian windows became popular as did the inclusion of circular or oval windows.
Chimneys grew a little thinner and were a little less likely to be on the end walls and more likely to be lined up with one of the interior bays. The roofs have a lower, flatter, profiles than do Georgian homes. They tend to be hipped, but gables were also popular. In come cases a balustrade was erected at the edge of the roof. The cornice supporting the roof eaves was likely to be dentiled, and this same detail might be carried over to the decorated lintel atop the windows.
The tendency toward flatter roofs really precedes the Adams. Inigo Jones,a hundred-and-fifty years before the Adams, favored hiding a low roof behind a balastrude placed around the eaves. This effected the interpretation of Palladio that followed. It comes into play with Federalism because this ideal, the flat, hidden roof, was becoming popular in America about the time that the Federal style was rising in popularity. As a result the roofs of many Federal homes are not even visible from the street.
If Robert Adam's effect on the exterior was slight, it was on building interiors where he really left his mark. He was the first architect that tried to coordinate all aspects of interior design with the house as a whole. His basic philosophy for interior ornamentation carried over to America.
Robert Adam rid the interior of all rococo elements, and in general his interiors were less crowded, less busy with ornamentation. He arranged his decorative elements as he found them in the homes around Pompeii. There was more open, neutral space on the wall, so what was displayed stood out more. His favorite motifs were urns, medallions, swags, tripods, vines and honeysuckle, wreaths, flutings, and oval patera. Even if you have never been in a Federal house these should be familiar. They became the favored icons for ornamentation of Federal buildings. Bas-relief was a favored means of displaying these designs, and bas-relief ceilings became relatively common in the Federal era.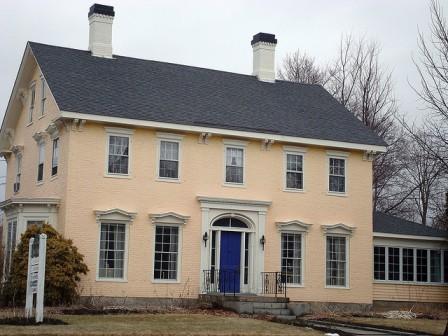 The most obvious clue for this 1825 house built for Warren Hunt is the doorway. The additions and the Italianate brackets were added later.
Towards a More Constructive Confusion
A Federal house can be difficult to distinguish from the Georgian and I am not sure that this site has successfully distinguished the two. One problem is that the biggest differences were on the interior and most of the time we will be on the outside. Another is that the architects and builders may not have been consistent. A plan book is only a guide, and many independent spirits will go their own way. If they wanted to mix elements of the old with the new they had that choice.
If you are truly looking at an old house there is also the chance that major work was done to the house at some point. Usually this involves modernizing something, and in doing so taking away some clues and messing with our minds.
There is also the whole issue of later revivals mixing and matching as designers saw fit. Few people were going to say "I want a Federal house and it has to be accurate". More likely they said "I want a house that says 'Colonial' and give it some columns".
In conclusion, I give you the chance to offer your advice on distinguishing the two. You can also post photos of a house you particularly admire or that have questions about. Just fill out the submission form at the bottom of this webpage.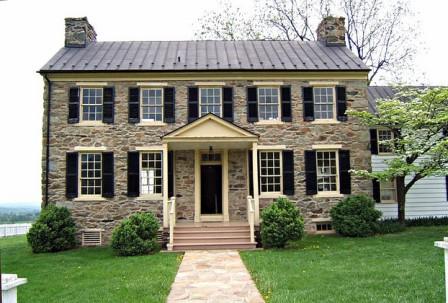 This house was built in 1843 on Mount Bleak in Virgina. The rough cut field stone is a nice effect and all locally grown. The exterior has little to distinguish this as a Federalist (rather than a Georgian) except the age and the shutters.

If you enjoyed this article, you may also be interested in my other articles on house styles, where I talk about Georgian, Cape Cod, Greek Revival, Carpenter Gothic, Italianate, Stick, Queen Anne, Second Empire, Tudor and Craftsman style homes.


---


Federal House Architecture Top

Return to Neoclassical Design

Return to House Styles

Home


Have A Great Story About This Topic?
Do you have a great story about this? Photos of great houses? Maybe you can add to our body of knowledge about this subject, or maybe you just have questions. Either way feel free to participate in our conversation.
What Other Visitors Have Said
Click below to see contributions from other visitors to this page...

House with No Name

We purchased this house in 2017. It has seen better days, and we are attempting to restore it. The map from 1868 shows it as a T shape, and 10 years …
two questions about Virginia Federal house layout

I once lived in a 1832 house in Culpeper Virginia.. the main entrance was up a few steps to a door into the foyer on the second of three floors..the hall …