Tudor Houses
Tudor houses, with their half-timbered walls and steeply pitched gables, represent the last hurrah for the Gothic Revival in America.
Tudor houses, with their half-timbered walls and steeply pitched gables, represent the last hurrah for the Gothic Revival in America.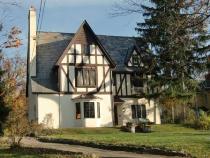 Note the steep roof, the half-timbering and the groups of thin windows.
The Tudor style had its origin in England where Richard Norman Shaw borrowed from the vernacular structures of an earlier age to create half-timbered houses with fish scale shingles. As we discussed in the fourth page of my
Gothic Revival History
, this revival morphed into the Stick and Queen Anne styles in America. These styles were dying out by the early 1900's, replaced as favorites by Craftsman and Prairie style houses.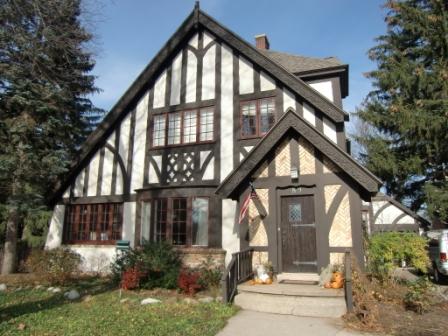 This beautiful Tudor house has two front-facing gables, one symmetrical and the larger not. Multiple gables is common with Tudor houses. The combination of brick and stucco is also typical. Not readily apparent on the photograph, the raking boards on the gables are all carved.
In a sense the Craftsman houses were a reaction to the excesses of the Queen Anne and Stick styles. The Craftsman houses carried on the spirit of the Gothic revival but without all the curlicues and with a simpler layout. The Tudor houses that came along were in some way a blend of the Craftsman with the original Tudor inspiration of Richard Norman Shaw.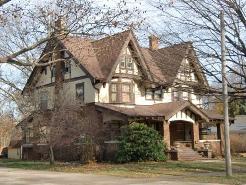 Tudors aren't usually symmetrical, but its a flexible style. This one appears to be crossed with the Craftsman look, judging by the porch and the exposed rafters.
Tudor houses attempt to recreate the look and feel of houses from the around the 16th century. They are a closer approximation of this than achieved by American builders in the Victorian era. The most easily identifiable feature of such houses was the half-timbering.
The original the houses were built as post-and-beam structures with spaces between the wood filled in with a wooden lattice that in turn was packed tight with mud or plaster. In the Tudor style in America the houses were usually built with balloon framing. The house was sheathed in wood, and on top of this wood planks were added to mimic post-and-beams. Between the false half-timbering stucco was applied. This style gained traction in the twenties in part because brick and stone veneers became available.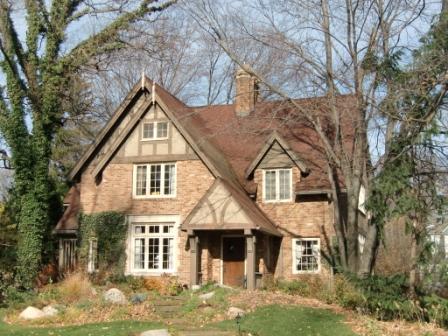 Successive layers of gables is a common theme with Tudor Houses
Back in the time of Queen Elizabeth the better houses would have brick or stone used as infill between the wooden supports. It was too expensive to recreate this in modern (1920's) houses, but when thin veneers of bricks became available this look became a reasonable alternative to stucco. It is perhaps coincidental, but the Tudor houses became popular about the same time that such veneers became widely available.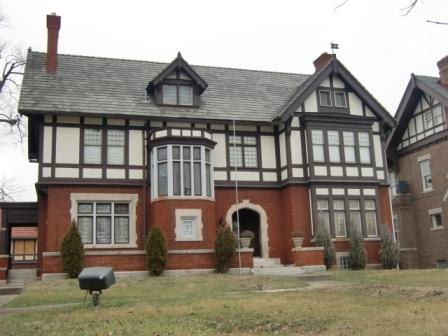 Contrasting stonework around the windows and doors is a Gothic architectural theme applied to the basic vernacular construction. In the original houses of the Tudor period you might find such details on the finer houses, but not on your typical home. The arch around the doorway is a Tudor arch.
Not all Tudor houses use half-timbering. There are enough other distinguishing characteristics that a house can still have a Tudor feel while lacking this important element. Tudor houses, like their Folk Gothic cousins, have steeply sloped roofs. They often have Gothic or Tudor arches. The latter is a slightly flattened version of the Gothic arch. They generally lack a full porch, but may have a covered entrance. They will usually have one or more front-facing gables. There is usually a combination of materials forming the skin. For instance it is common to have brick or stone on the first floor, with half-timbers and stucco on the upper floor.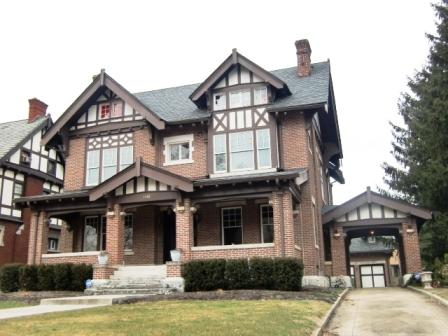 This is a fairly typical blend of Tudor with your standard rectangular house. They used gables to cap two bump-outs, and threw on some faux half-timbering, yet it is an effective and pleasing imitation. It looks like the windows have been replaced, with the bottom sash now a single pane. My favorite feature is the drive through porch, which nicely eliminates the view of the detached garage in the back.
The upper floors often overhang the first floor by several feet mimicking a common construction pattern in post-medieval houses. Multiple external chimneys are common, sometimes with quite intricate stonework. Windows often mimic early windows, with lots of individual panes, and often with lead muntins separating the panes. For decades panes had been getting larger, and now that the technology permitted large, single-pane windows, a nostalgic style came along that reversed that trend, at least for a while.
The long, thin windows, grouped together with stone mullions separating them, was a common way of providing a lots of light and view while staying true to the Tudor look. Multi-story bay windows were also common, as are oriel windows.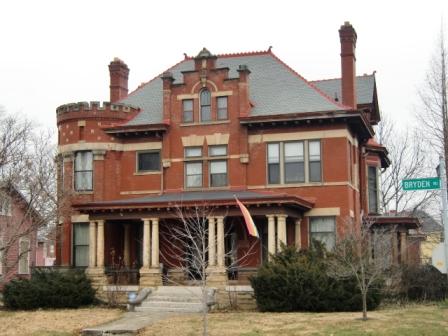 The castellated turret is an occasional feature in Tudor houses. Otherwise this was just barely influenced by the Tudor rather than being a good example of the style.
Some houses even attempted to mimic thatch roofs. There were some tile materials with a surface that had a thatch appearance, but generally this was achieved by rounding the edges of the roofs, giving a false impression of depth.
Some variants of the style strayed enough from the Tudor style that they developed their own distinctive features. Where I used to live in Tulsa, Oklahoma there were a lot of small houses that we referred to as "Gingerbread" house. They were simply small, brick and stone Tudor cottages that lacked the half-timbering, almost always had a Roman-arched doorway and had a distinctive, asymmetrical, front-facing gable with a variable-pitched roof. In the working class neighborhoods of that era if it wasn't a Craftsman bungalow it was likely to be one of these "Gingerbread" houses.
At its best the Tudor style looks beautiful, warm and inviting. The mix of stone, wood and brick creates visual interest. The archaic qualities of the style suggest permanence and age. The house may only be a few years old, but it looks like it has survived the ages.
At its worst Tudor houses look kitschy. The half-timbering looks as fake as it is. Often this is the case where they try to apply Tudor features to a shape that doesn't fit the Tudor style. Applying stucco and timbers to a double-wide isn't enough of a transformation to suggest Merry Old England, any more than adding a few spindles would make it Victorian.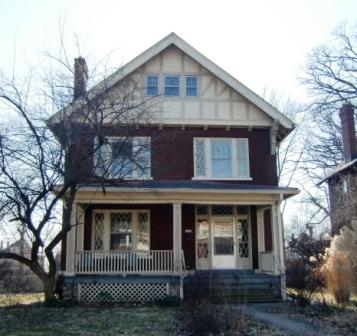 An example of a failed attempt at the Tudor look. This is too much like an ordinary house without enough to distinguish it as a Tudor house. Yet, they did a nice job on the diamond-pane windows, and look at the cantilevered gable. Take away the porch and increase the pitch of the roof and it could have been a decent Tudor.
The early Tudors were relatively true to their 16th century counterparts. More recent Tudors have strayed. They often blend the look of the day with Tudor features. Some call these neo-Tudor, but I object to that phrase as the original Tudor houses were also neo-Tudor. If you want Tudor you have to go back to post-medieval Europe. Some seriously object to this blending. I think a synthesis is good, as long as it is done artfully. Unfortunately this is often not the case.
The biggest offender is usually the garage. Back in the 1930's these were usually detached. Now they are often fronting the house. Another culprit is big picture windows. The usual solution to the window problem is to have lots of narrow windows with diamond panes, but sometimes a homeowner insists on a large expanse of glass. Sometimes it is a matter of adding some modern twist to the Tudor look, but in a way where the two styles clash rather than complementing each other.
While Tudor houses peaked before WWII, it is still a popular style. It may never again become a dominant style, but it has legs. In England such houses are quite popular and are the bane of modern architects who can't understand the public's fascination with these archetypes. I side with the British public in this case. This is a style that has more to offer than what modern architects are offering in its stead. As such, I expect we will continue to see it for many decades to come.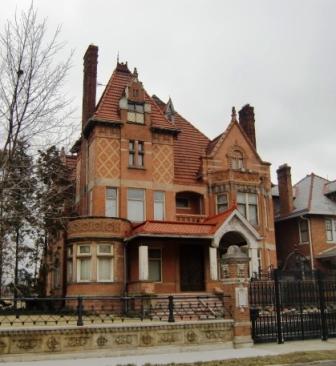 An example of an imitation of a wealthier house from the Tudor period. It could almost be in the Chateauesque style, except that it looks too English. Check out the beautiful brickwork.
If you enjoyed this article, you may also be interested in my other articles on house styles, where I talk about Georgian, Federalist, Greek Revival,Carpenter Gothic, Italianate, Stick, Queen Anne, Second Empire, Cape Codand Craftsman style homes.
---
To Top of this Page - Tudor Houses

Return to House Styles

Home
Like Me! Tweet Me! Comment! Tell your Story!
Please!
Have A Great Story About This Topic?
Do you have a great story about this? Photos of great houses? Maybe you can add to our body of knowledge about this subject, or maybe you just have questions. Either way feel free to participate in our conversation.